MS WASHINGTON SENIOR AMERICA 2016,
LINDA ALLBRIGHT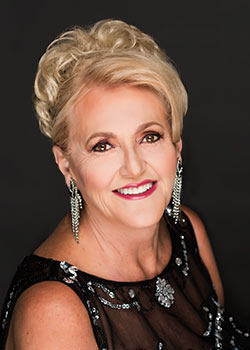 Congratulations to Linda Allbright, Ms. Washington!

Born in WA State I am oldest of six - the only girl with 5 younger brothers. I am the proud mother of a son and daughter, grandmother of 3 and great-grandmother of 1. I married my best friend Bill and will be celebrating our 25th Wedding Anniversary. We have traveled the U.S., New Zealand, Fiji, 38 trips throughout Mexico, Bahamas, Caribbean and more.

I was President of DECA which opened me to the world of sales, advertising and marketing. I knew this would become my passion. I won 1st place in the WA State DECA competition in all 10 marketing categories then went on to represent WA State in Washington DC. With over 150 other state competitors I was a 3rd Place National Winner.

My high school summer months I worked for the March of Dimes and Easter Seals foundations working in the children classes and summer programs and would later use this training when I had my children. Wanting to be a stay-at-home mom for their first 6 years I opened a daycare and received state certification to provide love and care for children with special needs.

During my 15 years at the Seattle School District I decided to return to Seattle Central University taking classes that would further my love of business, marketing and advertising. Then it was my time to start my own Building Services Company. Over the next 24 years as CEO and President of All Bright Floor Care and PRO TEAM Janitorial, I took the company to upwards of 90 employees before selling in 2012 and retiring to Sun City, AZ.

Things I am most proud of would be walking over 2,200 miles in 14 months, losing over 70 pounds and being fit and healthy. I've been a board member of Widow's Mite, a Christian ministry. I collected educational materials, school supplies and over 300 pairs of shoes and clothing for the children that were living in cemeteries and city dumps in Cebu, Philippines. And I am checking things off my bucket list such as being a contestant on The Price is Right, joining Bellevue Heights Church & Choir, performing with "Sentimental Journey", taking Spanish lessons, getting certified in Make-up Artistry and parasailing.

I know domestic violence first-hand and being part of the Cameo Club working toward helping women and children that have been victims has brought me endless joy. The Cameo Club has given me the "sisters" I never had.

I love cheering on the Seahawks, playing bingo, bowling, entertaining, traveling, reading mysteries, and spending time with my fabulous grandsons Anthony and Mateo.