MS VERMONT SENIOR AMERICA 2018,
DIANE BEEBE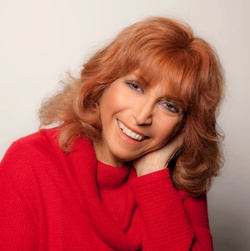 CONGRATULATIONS to DIANE BEEBE, MS VERMONT Senior America 2018!

Diane's first audition was at the age of 4 on Ted Mack's Amateur Hour. She didn't make the cut but continued to pursue tap, vocals and acting in plays thru out high school.

In the early 70s she worked as a vocalist on a Greek cruise ship one summer singing in 4 languages.

She first performed Off-Broadway in Bye Bye Birdie as the 3rd lead Mrs Acfee; from there the acting bug hit her.

Spending her weekends in Vermont at her ski house in Manchester Village, off Route 100, she taught skiing on weekends. She practiced singing and acting techniques while working and going to school at night during the week. She met her husband on the ski slopes of Mount Snow and it was a whirlwind courtship. Currently married 42 years, Diane has 2 children and 4 grandchildren.

She has performed in many productions including Music Man, Guys and Dolls, Lazarus & the Fig Tree and Sound of Music.

Diane received several degrees - AAS & BS in Marketing/Advertising and an MA in Communication/Vocal Performance graduating Cum Laude.

Having several careers in her lifetime including Prof of Communication at a junior college, grade school computer and music teacher; creative writing agent at WOR-TV; part-time Real Estate agent; assistant manager for Swiss Airlines and now acting.

In her recent career as an actress, she has worked with Martin Scorsese; Mariska Hargitay from Law & Order SVU; Donnie Wahlberg on Blue Bloods, Michael Weatherly on Bull; James Franco on The Deuce and Kevin James on Kevin Can Wait. Diane was also featured on other TV shows such as Gotham, NETFLIX's 7 Seconds, SHOs Homeland and Billions, several assorted shows on the ID Channel. She has also appeared in 5 independent films. Diane recently won the award for New York background featured actors, the NYNUB Awards for her appearance on Law & Order SVU.

Diane has traveled around most of the US, Europe, the Caribbean and the Mediterranean and used to film, edit and direct travel videos for broadcast on Cablevision while living in northern New Jersey.

The Green Mountain state has been the home to Diane for many winters since she was 18 and continues to be place to visit now on vacation, whether winter or summer. Vermont provides solace in her life and a remembrance of days past. She is excited to be representing her alternate home state of Vermont in this pageant.