MS VERMONT SENIOR AMERICA 2016,
FORTUNATA MALUCCIO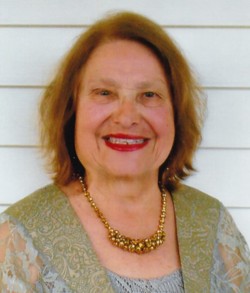 CONGRATULATIONS to FORTUNATA MALUCCIO, MS VERMONT Senior America 2016!

As Fortunata tells it: I was born in Italy, the eldest of 5 children. After my basic education, I attended a tailor school from which I graduated. I came to America where I worked as a tailor in a factory. Later I and a partner bought a sewing business of our own where we made designer clothes and also commercial pilots' uniforms, etc. After the sewing business I purchased a restaurant which I operated for years.

After my 3 daughters finished college and got married I began to work in a furniture store where I often received top honors and bonuses for monthly sales. Meanwhile my daughters were having 8 grandchildren—4 boys and 4 girls—which absolutely thrilled me because I love children. In fact, before my grandchildren were born I did volunteer work in the children's department of a local hospital. Also, during election years, I volunteer to help the democrats.

Now that I have retired I enjoy spending time with my children and grandchildren but also with friends whom I often help with some of their needs. My personal pleasures include going to the opera, traveling, walking and going to the gym. Gardening and cooking are high on my list of things I love doing. Sometimes when I'm observing nature I'm moved to write a poem or two. I also look forward to performing with other members of the Cameo Club at various senior citizens' homes and rehab centers across the state. I do a stand-up comedy routine which I have written.