MS MARYLAND SENIOR AMERICA 2015,
ELEANORA IOFFE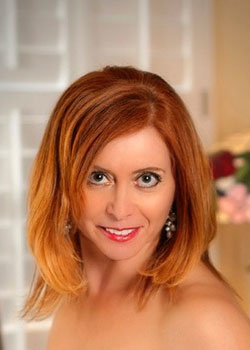 As Eleanora tells it:

As a little girl, I had many dreams. As I moved through life, becoming an adult, a professional woman, a mom, and recently also a grandma, Iíve never given up my dreams, for age has not changed who I am. Iíve never felt a need to slow down or give up any of my passions because they were no longer ďage appropriate.Ē And because Iíve never felt any different on the inside, Iíve seen no reason to look aged on the outside. And so Iíve lived a healthy life, taken care of my appearance, exercised at every opportunity, and I now feel just as full of life, energy and desire to experience new things as ever.

I came to this country nearly 40 years ago, having left behind my home and family in Russia to escape oppression and build a new life, and I have spent every day since working hard and pursuing my dreams. I arrived in New York with no money, no possessions and not a single person I knew. I was quite desperate to find a job, but no one was interested in hiring a young girl ďoff the boat." By a sheer stroke of luck I finally got a job as a receptionist and started to build a life and a career. I've worked in a number of professional fields - as an executive secretary, translator and editor, web content producer, communications specialist and now marketing manager. I've gone back to school and completed my Bachelorís degree with highest honors, I've raised a daughter as a single parent, and I was present at the birth of my two beautiful grandchildren. I am happy and fulfilled where I am today, but I know there will be the next chapter in my life and I am eagerly looking forward to it.

When I am not working, I love dancing, practicing yoga, traveling, and being involved with the arts. But my greatest joy is spending time with my two grandchildren, Dante, 4 and Juliet, 1. I hope they grow up believing that itís only natural for Grandmas to do headstands, twirl hula hoops or play hopscotch.

When it dawned on me that I was going to turn 60 this year, I knew I was going to celebrate with a bang. And what better way to do so than enter the Ms. Senior America pageant?! By doing this, I hope to contribute in my own way to changing the outdated notions of aging and senior people. I am here to prove that the age of elegance, the age of wisdom is a wonderful time of life and that our seniors are indeed a national treasure!