MS KANSAS SENIOR AMERICA 2014,
VICKIE WELCH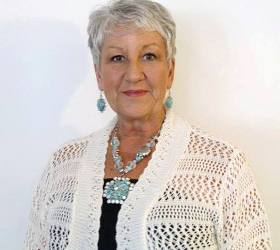 CONGRATULATIONS to VICKIE WELCH, Ms. Kansas Senior America 2014!

Vickie&nbsp was born Februrary 7, 1948 in High Point, North Carolina, graduated from Trinity High School in 1966 and married Tommy Welch on December 24, 1966. Vickie lives with her husband on a 93 Acre working cattle farm. She has two sons, Clayton and wife Lisa, and their three sons, Easton, Bailey and Chesney; and younger son Tommy with his wife Christy and their two children Sophie Grace and son Ty Bradley.

Vickie&nbsp and her family graze cattle in Kansas and ship cattle to Kansas on a weekly basis from North Carolina. Vickie worked for the Randolph County Schools for 25 years, volunteers for the Randolph Pregnancy Care Center, special needs adults, and adults day care, and is an active volunteer for "JDRF" Juvenile Diabetes. Vickie's grand-daughter was diagnoised at age four with Type 1 Diabetes and she is now six years old. Vickie performs her talent as "Minnie Pearl" and "Nadine" at assisted living and and retirement communities. Vickie is a member of the Glenola Baptist Church, and she has been a Sunday School teacher for thirty-six years.

Vickie&nbsp is a member of the RSVP Theatere Group and the North Carolina Senior America Cameo Club and served as a Chaplin and was former secretary. Vickie was a contestant in the Ms North Carolina Senior America Pageant in 2011, and was first runner up Ms Senior Randolph County in 2013 and Ms Congeniality 2014. Vickie likes to travel and has traveled to almost all states in the United States. Vickie has spent a lot of her life in the Mid-West traveling with her family's cattle business. Vickie has a love for life and wants to fill everyday with love and laughter. Vickie feels laughter is medicine for the soul.