MS KANSAS SENIOR AMERICA 2013,
KAREN TAYLOR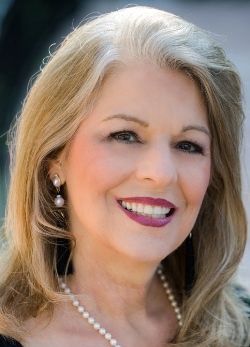 CONGRATULATIONS to KAREN TAYLOR, Ms. Kansas Senior America 2013!

Diversity is this lady's "handle." She has traveled internationally, served as a missionary, taught as a music educator, worked as Hospice Chaplain, is a licensed minister, can plumb a bathroom, is a voracious volunteer, and, accompanied by her two Shih Tzu dogs, tows a 28' Airstream trailer hooked behind her big red truck.

Married for 42 years to an United States Naval Academy graduate ('68), Karen and her husband raised three fine children who are now married and have kiddos of their own. Moves were plentiful, but not because of the military. Captain Taylor, a Vietnam Vet, in the 2nd year of their marriage, had his leg amputated, as the result of an athletic accident. He subsequently retired from the Marine Corps and corporate-climbed to executive positions that required National and international travel. Karen oversaw 9 moves throughout the U.S., including Hawaii, and often accompanied her husband on overseas jaunts. Therefore, she savors the diversity of varied cultures, traditions, and accents throughout America and abroad.

An adventuresome couple, in 1976, Mr.Taylor (remember with only one leg) and Karen sailed a 32' sailboat from Los Angeles to Hilo, Hawaii. In 2004, the couple continued their radical adventures by embarking on a mission trip to South Africa.

Since that time, though, Captain Taylor was diagnosed with Alzheimer's disease. Karen cared for him at home for eight years until he advanced to the point of needing to be placed in a nursing facility. When Karen visits him, she delights in interacting with all the residents, often entertaining them with song, guitar, and just plain old listening.

In spite of this uninvited sorrow, Dr. Taylor continues her love of travel and humanitarian ventures by participating in short-term mission trips. She's been to the Congo to assist rape warfare victims and to Jericho, W. Palestine, as part of a missionary team who brought wheelchairs, medical care, and happiness to the disabled in Jericho, Palestine.

Taylor, at age 58, completed a Masters in Biblical Studies and Doctor of Ministry in Formational Counseling. Presently, she is pursuing a Master's degree towards becoming a therapist. Such education will assist Dr. Taylor as she transitions into the last decades of her life and continues to offer what she has learned to others.

Singing, or coaxing tunes out of a teeny-tiny harmonica, Karen sprinkles music all around. It may be with a Ms. Senior America state Cameo Club, by invitation at nursing home venues, or acapella with the grandchildren. A composer, this lady creates songs as an everyday adventure. Some even make it to the stage; e.g. her composition, Ms. CO Senior America Queen-Crowning Song is sung annually at the Ms. CO Senior America pageant.

A non-fiction writer, Ms. Kansas Senior America 2013 has turned her life journeys into books, including, Astonishing Treasures in a Dark Forest, written for caregivers, and Misty, the story of her and her husband's 3-week trans-Pacific crossing.

Dr. Taylor speaks at conferences on caregiving and the heart of a Godly woman. She guides small-groups through 16-week emotional healing program and facilitates Listen to my Life seminars that emphasize the importance of our story within God's great story-line.

With proficiency, knowledge, and insight, Dr. Taylor is intent on strengthening the significance of aging adults in our society. She particularly aspires-to-inspire and empower women to esteem their lifelong experiences and, as sages, share the insights they have learned. In this manner, we, of the Age of Elegance, can emphasize out substance, energy, astuteness, and worth as wise mentors who will impact the generations who follow behind us.

Karen delights in time spent with her three superb children and five stupendous grandchildren. Her varied interests include swimming, SCUBA diving, photography, construction of any type, and savoring the aromas, peaceful sounds, and beauty of nature—which includes basking in the presence of God.