MS WYOMING SENIOR AMERICA 2019,
SHARON WORD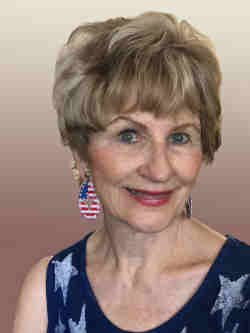 CONGRATULATIONS to SHARON WORD, Ms Wyoming Senior America 2019!

What's the Word. The Word is Sharon. Sharon was born on July 4, 1939 in Boulder, Colorado. She attended the Denver Public Schools and graduated from North High in 1957. She graduated from Colorado University with a Bachelor of Music Education Degree (piano major) and a minor in Elementary Education in 1961. She then received her Masters Degree in Curriculum and Instruction. Sharon taught in the Denver Public Schools for 32 years. She was awarded the Teacher of the Year Award in 1995. Sharon retired in 1998.

Sharon and her husband Phill have been married for 36 years and made Arizona their permanent home in 2014. They love to travel and have been all over the world.Sharon has many hobbies which include playing the piano, golf, painting, calligraphy, bridge and dancing. She is a member of the Sun City Poms and marches and performs in many parades in the Phoenix area.

Sharon loves to write poetry and illustrated and published her first children's book call The Word is Alphabet "Poems." Sharon has volunteered for many organizations and charities. Most recently are Sky Kids, Gamma Phi Beta camp board, Victims of Domestic Violence Charities through the Cameo Club of Arizona, and playing and entertaining at assisted living and retirement facilities in the West Valley of Phoenix. Sharon has two children, Rick Bacon and Jodi Bacon (deceased) from her first husband. She also has two step grandsons, Tyler and Cody.

Sharon was crowned Ms Sr Colorado 2001 and placed in the top ten in the Ms Sr America Pageant. Sharon's philosophy of life is: Yesterday cannot be relived, tomorrow is uncertain so make the most of today. Believe in yourself and what you can or cannot do. "Shoot for the moon and even if you miss, you'll land among the stars." She is still shooting for the moon and reaching for the stars. She believes that dreams can come true at any age. She is still sizzling, sparkling, shinning and booming and hasn't fizzled out yet.

Her personal goal for doing this pageant for the second time is to share with everyone how much the Ms Sr America Pageant has done for her the last nineteen years. It has helped her through the death of her daughter, Jodi, her father's suicide, retirement, divorce, moving to Arizona after living in Colorado for 75 years and anxiety and depression. What helped her through all this was her association with the Cameo Club and the wonderful women that she met in the Ms Sr America organization. "Music can cure what medication never will" and she always went back to playing the piano, singing, and dancing. Sharon can change one word "impossible" to two words "I'm Possible." Anything is possible at any age and she is here to keep following the "Impossible Dream" and the Yellow Brick Road to "Somewhere Over the Rainbow." And isn't everything better "The Second Time Around."