MS WASHINGTON SENIOR AMERICA 2018,
Barbara Ann Reincke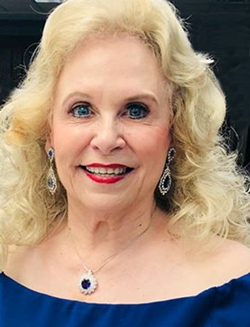 Congratulations to Barbara Ann Reincke, Ms. Washington!

I was born in Galveston, Texas and raised from 5 of age to 19 In La Marque, Texas. I was born in this world at 1 pound 6 ounces, two months early, I did not speak my first word until 3 years of age, and had a very bad speech problem. I took speech from third grade until 9th grade. I had to work much harder them most kids. I do not believe in giving up, I am a survivor. I was feature twirler and school beauty in High School.

Went to college, later married an had 4 beautiful children, Went back to college later an got my advanced PA Degree at age 46 and then worked in the VA Emergency Room at the V.A. hospital in Seattle, Washington. I also taught and had baton twirling schools, teaching underprivileged children twirling, dances, skits, putting them in parades and events, no matter what State I was living in at the time. Later after retiring I decided to do something different, and became a District Manager over lots of Walmart Studios for 7 years which was transfer to Mississippi. Had the honor to Represent Ms. Mississippi Senior America 2010. A long the way, I lost a older son, took care of my mother, three year, father five years and two husband on hospice at home. this is where my doctoring has came in handy. Like I say I am a survivor.

I re-married August 11th of this year. You never too old to do the things we love to do. I want to motivate, and encourage Seniors everywhere, You never GIVE UP, you keep going, find your vision, think big, keep active, help others enjoy life. I try to to bring to the table my wisdom, experience, knowledge, with a good heart. We can be survivors and warriors. We are classic cars of fine wine, our spirit, courage shows our accomplishments. You have one life to live. Live it today as if it was your last , but learn as if you are going to live forever.