MS VIRGINIA SENIOR AMERICA 2019,
LILCHY HUFFMAN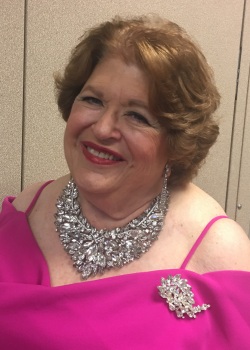 Congratulations to Lilchy Huffman, Ms. Virginia!

Born in Richmond 72 years ago, I am proud to be a 12th generation Virginian, a 9x great granddaughter of John Rolfe and Pocahontas and a distant cousin of First Lady Edith Bolling Wilson and President Zachery Taylor.

My father was a career Air Force officer so by the time I was 14, I had lived in Pennsylvania, Guam, Japan, Washington, Alabama, Virginia, back to Japan, and Delaware. He retired in 1961 and we moved back to Alexandria, Virginia.

In 1968, I received a B.S. degree in Home Economics Education from Bridgewater College, Virginia. I worked as a Home Economist for Virginia Electric and Power Company but began my life-long dream of teaching on my 22nd birthday.

I received a M. Ed. in Counselor Education from The University of Virginia in August, 1971, and 4 days later went to Bamberg, Germany to teach for The Department of Defense/Overseas Dependent Schools. I taught Home Economics, World History, 7th grade Geography and Journalism. I came home to Virginia in 1973 and continued teaching 6th – 12th grade Home Economics for the next 26 years.

Two years after I retired, I returned to the classroom and taught 6-8th grade Home Ec part-time for another 3 years. In 1985 I was inducted into Phi Delta Kappa, an Honorary Fraternity for Professional Educators. The summer of 1992, I taught at an Oral English Workshop at Jiangnan University in Wuxi, China.

On special occasions, I have portrayed my cousin Edith Bolling Wilson at her Birthplace in Wytheville, Virginia and at The Woodrow Wilson Presidential Library and Birthplace in Staunton, Virginia. I volunteer at my church, historic Trinity Episcopal Church in Staunton, and received the 207 MVSA Community Service Award for my various volunteer activities there.

My passion is helping others. I work part-time as a Front Desk Clerk at the Staunton Best Western Hotel. I meet visitors from all over the world and enjoy telling them about Staunton and Virginia or talking about their country. I love to travel and have visited all 50 states and 36 foreign countries. I learn about other cultures and the basic words and phrases of various languages. The summer of 1990, I literally flew around the world on a trip to Russia, Mongolia and China.

I also do cross stitch and needlepoint and have taken awards for my work. I enjoy playing bridge, Backgammon and collecting antiques. I so love the peace, beauty and wonder of rainbows, that I have crystals hanging in my windows so there are rainbows in my home on sunny days. I adore cats, and rescued/adopted my Max & Annie.

Finally, there is nothing more beautiful and special to me than The Blue Ridge Mountains and my beloved Virginia.