MS VIRGINIA SENIOR AMERICA 2018,
ALICIA WINDSONG DIAMOND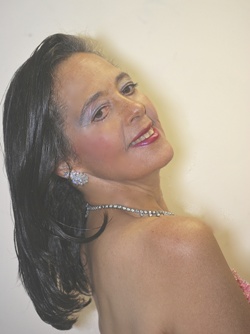 Congratulations to Alicia Windsong Diamond, Ms. Virginia!

Alicia Windsong Diamond believes that beauty, harmony and goodwill can transform our world.

Born and raised in Bronxville New York, Alicia enjoyed the cultural and artistic riches of Manhattan and the quiet neighborhood suburban streets around her home. As a girl, she occupied herself in nature, with animals, art, reading and listening to classical music. These interests remain important themes in her life.

After earning her Bachelorís and Masterís Degrees in Education with honors, she taught art the public school and undergraduate levels. While exhibiting her paintings and photography in the New York area, the discovery of her operatic voice earned a vocal scholarship to a conservatory of music. After professional opera studies at the Juilliard School of Music, the New York Grand Opera Studios and the Metropolitan Opera Studios, she performed the roles of Donna Elvira in Don Giovanni, Aida, Manon Lescaut, Musetta in La Boheme, and Violetta in La Traviata.

On relocating to Virginia in 1989, Ms. Diamond acquired numerous certifications in holistic therapies, specializing in immune recovery and music for healing. While producing health education radio programs in rural Virginia, she was active in the artistic and the musical life of the community. Her musical and artistic endeavors included art exhibitions, solo and recital performances, and directing community and church choirs and premiering her choral compositions and arrangements.

A lifelong dream of having her own horse was fulfilled in 1998, when she established a home with horses near Rapid City, South Dakota. On her farm, she rehabilitated second career horses and horses at-risk of slaughter. With these retrained horses, she established the first therapeutic riding program in the region and pioneered equine based occupational training for blind riders. Alicia hosted a daily health education Radio program on KOTA, Rapid City, exhibited her artwork at Prairie Edge Gallery, appeared as soloist with the Rapid City Symphony Orchestra and served on the Rapid City Chorus Board of Directors.

Based in Santa Fe New Mexico from 2002-2014, Ms. Diamond directed a Santa Fe based therapeutic riding program and enjoyed many miles of high desert wilderness trail riding on horseback. On learning of the perils faced by tens of thousands of wild horses in 2008, she became a leader in wild horse management, education, and advocacy. Combining horsemanship, flair for the dramatic, and a lifetime of experience sewing and designing clothing, she created elegant costumes for horses and their riders. These costumed mustangs, partnered with second career sport horses, were ridden by women and girls in parades and exhibitions as Royal Mustang Ambassadors for the wild horse advocacy initiative which Alicia established. Her current initiative is the Center for Inter Species Peace & Justice.

Thirty-five years of yoga, meditation, and a plant based diet help her maintain a healthy, active lifestyle. Since 2016, when Alicia made beautiful historic Southwestern Virginia town of Abingdon her home, she continues to enjoy equine, civic and arts engagement. Alicia looks forward to an exciting year as she spreads the message about Senior America.