MS UTAH SENIOR AMERICA 2014,
MERIAM KIENKE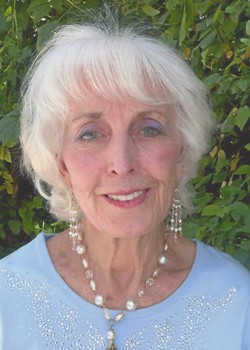 Born and raised in Ephraim, Utah, Meriam Kienke graduated from college with a major in Home Economics. She then taught school in her field in Anaheim, California. Meriam later held the position of Supervising Home Economist for Utah Power and Light for 36 years during which time she served as a judge for Sterling Scholar Awards, Parade of Homes, Fair and 4H exhibits and Dutch Oven Cooking. Never at a loss for words, Meriam won "Best Speaker Award" in Utah for Toastmasters International. She also won "Outstanding Home Economist In Business" in Utah & parts of Idaho and Wyoming. Throughout her career, she has been involved in public relations for Norbest Turkeys, Smiths Food King and Jenny-O Turkey Company, and has done research work for Land O' Lakes. Meriam was also a kitchen consultant, who was involved in testing both small and major appliances when they first came on the market. She gave Holiday Demonstrations throughout Utah, featuring kitchen-tested recipes (later put into cookbooks), Christmas decorations, appliance gift giving and various other creative ideas. In addition, Meriam traveled several western states teaching cooking schools, garden lighting and the use of "new to the market" appliances.

More recently, Meriam graduated from Clowns of Yuma, AZ and has brought smiles to young and old alike wherever she has performed as "Yo Yo Darling". Her goal is to try something new and different each year! Meriam has been married to Albert Kienke for 48 years, with whom she has traveled to many exotic parts of the world. They have one daughter and one granddaughter.