MS UTAH SENIOR AMERICA 2019,
JOYCE BENNETT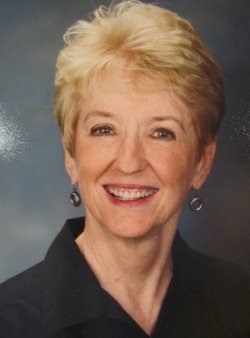 Congratulations to Joyce Bennett, Ms Utah 2019!

Joyce Bennett was born in Salt Lake City and is the youngest of the four daughters of David L. and Mildred C. McKay. She started playing flute at the age of nine, and she has continued playing and teaching flute throughout her life. Growing up, she was also in the original Virginia Tanner Children's Dance Theatre, and, today, she serves on their advisory board. She attended East High School and the University of Utah before moving to Washington, DC, where she received her Bachelor of Arts degree in flute performance from American University.

She later completed graduate studies in Suzuki flute pedagogy in the Suzuki Studies Program at East Tennessee State University. She is a former member of the Utah Symphony and has also played with the Pacific Palisades Orchestra and the West Valley Chamber Orchestra.

A certified Suzuki teacher at all levels, Joyce has taught Suzuki flute in Los Angeles, Salt Lake City, and at the prestigious Levine School of Music in Washington, DC. She has taught and presented at Suzuki institutes, conferences, and workshops in Colorado, Washington, Utah, Texas, Virginia, North Carolina, and Tennessee. She has performed at the Louis Moyse International Flute Master Class in Saint Amour, France and has studied Suzuki Pedagogy with Toshio Takahashi in Matsumoto, Japan. She is also a certified as a teacher trainer for Music Mind Games, a program designed to teach music theory to very young children.

Joyce has lived in Los Angeles, Washington DC, and Salt Lake City, and she has maintained an active flute studio in each location. She has taught more than 200 private flute students throughout her career.

Joyce serves on the board of the University of Utah Music Department and was the chair of their 2018 annual gala. She also performed at the dedication of their McKay School of Music Library, which is named after Joyce's grandmother Emma Ray Riggs McKay, wife of David O. McKay, who served as the Ninth President of The Church of Jesus Christ of Latter-day Saints.

After her husband Bob Bennett was elected to the United States Senate in 1992, Joyce became something of a world traveler and has visited over forty countries on six continents. She also became active in a number of organizations in Washington, including the Congressional Club, the Meridian International Center, the Board of Directors of the Washington Performing Arts Society, and the Washington Opera Board. She served as the Vice President of the Spouses of the Senate Club and as president of the International Neighbors Club.

She is currently Vice President of the Music Circle Club, President of the Classics Club, and she is a member of the Cannon-Hinckley Church History Study Club, and the group One Hundred Women Who Care. She has also served in a wide variety of church positions throughout her life. She and her late husband are the parents of six wonderful children, twenty perfect grandchildren, and one especially perfect great-grandchild, with one more on the way.