MS TEXAS SENIOR AMERICA 2015,
JILL BEAM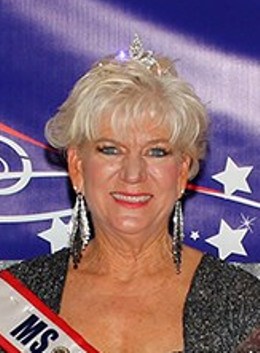 CONGRATULATIONS to JILL BEAM, Ms. Texas Senior America 2015. We would also like to thank the State Administrators and their Sponsors for another fabulous Texas Queen!

Jill graduated from East Texas State University with a BS in Elementary Education and Recreation. She also holds a degree from the University of Colorado at Colorado Springs in Gerontology. She began her employment with the Dallas Park and Recreation Department, where she recently retired after 28 years of being the Events and Reservations Manager, reserving over 408 parks. During the last 8 years of employment with the City of Dallas, Jill lead the City Manager's Customer Service Initiative and she trained over 13,000 employees. She recently became employed with the City of Lewisville, TX as the Manager of the Senior Activity Center, where she teaches Jazzercise, tap dancing, water aerobics, and line dancing. She has been playing the flute since the 3rd grade and enjoys playing with the Mesquite, TX Symphonic Band. She has been teaching Jazzercise for 35 plus years and was a trainer for 8 years and has trained over 300 instructors. She is also very involved in the Park and Recreation profession where she is a member of several associations. She has held many offices with these professional organizations and has also served as a presenter. Jill has performed in the Dallas Spectacular Senior Follies for 4 years and enjoys sharing her talent. Jill has spoken for many civic clubs, to include book clubs, Lion's Clubs and Rotary Clubs. Jill has won many awards to include the Dallas Park Department's Director's Trophy, Professional Achievement, Life-time Achievement Award and was selected as the employee of the year for 5 years consecutively. She is actively involved in promoting fitness across the state of Texas. She has led Jazzercise warmups for run/walks for many non- profit organizations to include Susan G. Komen, The Lymphoma Society, The City of Dallas Mayor's Youth Fitness Initiative, The Dallas Marathon, The Trinity River Levee Run, Mothers Against Drunk Driving, and many more. She was the director of the Ms Texas Senior America Pageant for 2012 and 2013. Jill also taught dance for the Dallas Independent School District arts magnet elementary school for three years. Not only did Jill win the title of Ms Texas Senior America, 2015, she won the Mary Frances Hansen Community Service Award and Ms Congeniality. Jill is very involved with her church, First Baptist Church Forney, where she has taught Sunday School and pre-school choir. Jill is married to Ken Beam and she has two step children and three step grandchildren.