MS TEXAS SENIOR AMERICA 2017,
CATHERINE BROWN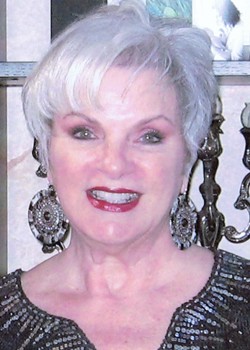 CONGRATULATIONS to CATHERINE BROWN, Ms. Texas Senior America 2017, and to Sarah Senter and her exemplary team for another fabulous Texas Queen!

Catherine was born and raised in Port Chester, New York which is located about 30 miles north of New York City.

She started her career with IBM as a Word Processing Secretary in Syracuse, NY and worked her way up to become Regional Administration Manager in Boston, MA. That was a good move for her not only career wise, but personally. That's where she met and married her next-door neighbor and best friend, Alan. They've been married for 31 years and live in Flower Mound, Texas. Catherine has 1 son, 2 grandchildren, and 2 great grandchildren.

Catherine loves to sing and entertain. Some of her favorite roles in her younger years were: Tuptim, "King & I"; Netty, "Carousel", Mother Abbess, "Sound of Music"; Marian, "Music Man". She recently appeared in two productions at the Greater Lewisville Community Theater after being away from theater for 30 plus years: Ensemble where she played 6 different characters in "She Loves Me" and Flo Manero (John Travolta's mother) in "Saturday Night Fever". She is a cast member in this year's Dallas Senior Follies – "The Fabulous 50's".

Five-and-a-half years ago she founded the Silver Singers and they have had weekly performances at many different senior living facilities ever since. She is secretary of and a performer with the Cameo Club which consists of women who are present or former contestants of the Ms. Texas Senior America pageant. Catherine has been chairperson of pickleball tournaments benefiting Alzheimer's for the last six years and she plans to do another one next year.

Catherine is always knitting. She knitted 425 plus sacks and hats for the ICU babies in need at Parkland Hospital in Dallas. She also enjoys crocheting, sewing, needlepoint, cooking, floral arrangements, singing, playing pickleball and collecting big earrings.