MS TENNESSEE 2016
NOELANI DEROSSETT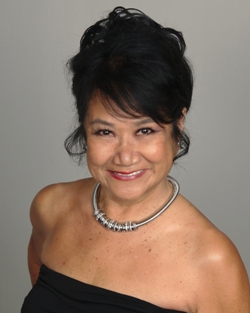 CONGRATULATIONS to NOELANI DEROSSETT, Ms Tennessee Senior America 2016, and Special Thanks to Ms Senior Tennessee Inc, for a wonderful State Queen!

Noelani DeRossett was born in Honolulu, Hawaii. Moved to Southern California as a young girl. Lived in Los Angeles until 1994, when she moved to Upstate New York. She retired in 2008, and as a snowbird, spends her winters in Florida and summers in Tennessee.

Noelani started her first job working as a Polynesian entertainer. Noelani learned the art of 'hula' in Hollywood, California. She has entertained in Las Vegas, Lake Tahoe, and Reno, Nevada. For thirteen years, she was a stage director, choreographer, costume designer, and featured dancer at a Hollywood night club. She also held a Screen Extras Guild card, and during the day, she worked in many TV series and movies, which then gave her the opportunity to perform, as a dancer, in two of Elvis Presley's movies; namely, Girls, Girls, Girls and Paradise Hawaiian Style.

After receiving a Bachelor of Science degree in Marketing, Noelani joined the JC Penney Management Team. Her management positions were: Merchandise Manager, General Merchandiser, Personnel Manager and Operations Manager. After 25 years of service, she retired from JC Penney's.

Lastly, Noelani and her husband became small business owners and purchased a campground in Lake George, New York in 1994. They operated this business for 14 years. During this time, Noelani served on the Board of Directors for the Lake George Chamber of Commerce, the Campground Owners of New York, the Northeast Campground Association and the National Association of RV Parks and Campgrounds.

Noelani now volunteers at the Fair Park Senior Center in Crossville, Tennessee and teaches Hawaiian dancing. She and her students perform Hawaiian shows at the Senior Center, church functions, assisted living facilities, and other organizations. When not dancing, she volunteers for the Tennessee Jewels, Fairfield Glade Garden Club, Porsche Club events and the Northeast Campground Association.

Noelani has been married to Dave for 52 years and together they have fun collecting classic cars and attending car shows. She also enjoys sewing, making hand-made greeting cards, gardening, traveling, photography, and fitness.