MS OREGON SENIOR AMERICA 2012,
DiANNE WILSON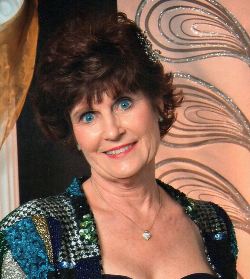 CONGRATULATIONS TO DiANNE WILSON, Ms. Oregon Senior America 2012!

DiAnne has been married to her high school sweetheart Clint for 43 years. They have two wonderful sons and two beautiful granddaughters. For the past seven years she has proudly worn the uniform of the Caldwell Police Dept where she serves as the assistant to the chief of police.

DiAnne spent her early childhood years living in Oregon where her father pastored a church in Burns. This is when her passion for ministry began. She has served in numerous ministries including: Sunday school teacher, childrenís church director, on-staff youth minister, womenís ministry leader, worship team member, inspirational speaker, and workshop presenter. She currently serves as the Secretary/Board member to the womenís ministry department of the Southern Idaho District Assemblies of God.

DiAnne is actively involved in the Gideon Auxiliary and serves as the local camp president and the Area Director for the Oregon/Southwest Idaho Association. For over four years, she and her husband have been conducting weekly Bible studies with the women incarcerated at the Canyon County Detention Center.

DiAnne is also involved in the Mentoring Network. The past several years she makes weekly visits to troubled students needing a friend and a listening ear. In the past she was a 4-H leader. She volunteers for community events and youth activities through her association with the police department and Optimist Club.

DiAnne has always had a passion for singing. She began singing in her grandmotherís church at the age of seven and has been singing ever since. She sang in concert choirs in high school and college, performed in high school musicals, sang in a ladiesí trio in college and for over 20 years sang in a local trio called the Melody Makers.

DiAnne loves to share her love of God and music to wide array of audiences and venues. She has performed in numerous churches, senior citizen centers, retirement homes, television appearances, civic clubs, community events, and even performed for the women in CC Detention Center. She lives life with a passion and loves to share her enthusiasm.