The Ms. Oklahoma Pageant is administered by the Ms Senior Oklahoma Foundation under the direction of Ladell Maxwell and her team, Carol Kallenberger, Linda Parker, Wynelle Record, Dot Liles, and Dove Schmidt. Many thanks to Ms. Maxwell and the volunteers of Ms Senior Oklahoma Foundation for their hard work and commitment to the Age of Elegance!

The 2018 Ms. Senior Oklahoma Pageant will be held on July 21, 2018 at 2:00 pm at OCU, in the Oklahoma Christian College Performing Arts Center, in Edmond, Oklahoma. For more information, visit Ms Senior Oklahoma on facebook or contact ladellok at yahoo.com and make your plans to be inspired!


MS OKLAHOMA SENIOR AMERICA 2017,
DAWN ANITA PLUMLEE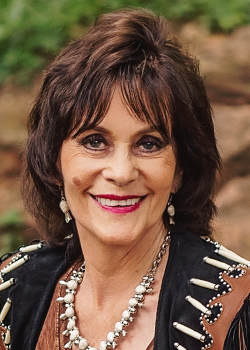 Congratulations to DAWN ANITA PLUMLEE, Ms Oklahoma Senior America 2017 and to the Ms Senior Oklahoma Foundation for a wonderful State Queen!

Dawn Anita lives on a ranch in southern Oklahoma near the small town of Velma with her husband Jerry where they raise horses and cattle. They have 2 children, a son and a daughter, 7 grandchildren and 6 great-grandchildren. She worked as a legal assistant for over 45 years and is now retired, but she remains active in music, helping her husband on the ranch, spending time with family and loves raising a garden. She tries to wake up each morning with a smile on her face and a song in her heart.

She was 1st runner-up in the 2012 & 2013 Ms Oklahoma Senior Pageants. She has performed throughout the US and Canada, has had three national chart records and has received many awards in music for her singing and songwriting, including Female Vocalist and Entertainer of the Year at the Oklahoma Opry in 1987. Her latest album entitled "The Dawn of Old Country" is a collection of good ole traditional country music that she has performed down through the years and will be released in September of 2017. Family has always been her priority, and she turned down a contract with RCA in 1973 to stay home with her family, but she never quit pursuing a music career.

She wrote, recorded and produced a video called "The Gift of Life" to help promote organ donation and donated the proceeds to the Transplant Initiative Org. She performs at civic clubs, senior citizen centers and other charitable functions, and has been active over the years in organizing and performing at many benefits to help fellow musicians. Helping others achieve their dreams is one of her passions. She has helped many hopeful singers and songwriters in their pursuit of a country music career. Her motto is never give up on your dreams no matter your age. She was delighted to find such a wonderful organization as Ms Senior Oklahoma of America who encourages ladies who have reached the age of elegance to be all that they can be.

She is a published author, and her revealing memoirs published in 2010 entitled "One More Last Chance" is a heart-warming story of her struggles in life, devotion to family, her relentless pursuit in country music, and a gripping tale of she and her husband's horseback ride from Oklahoma to Nashville.

She has always loved horses and the outdoors and has won many awards showing horses and has no qualms getting her hands dirty helping pull a calf, mucking out stalls or hopping on the tractor and doing whatever is necessary to keep their small ranch operating. Her dedicated husband of 59 years says, "there's no one in life quite like her and my life would not be the same without her."