The Ms. Oklahoma Senior America State Pageant is administered by the Ms Senior Oklahoma Foundation under the direction of State Administrator, Ladell Maxwell; Directors, Carol Kallenberger and Dove Schmidt; and the Advisory Board team, Tamara Taylor Jones, Sharon Moore, and Dawn Anita Plumlee. We applaud them for their hard work and commitment to the Age of Elegance!

Check back on plans for the 2022 Ms. Senior Oklahoma Pageant! You can also visit Ms Senior Oklahoma on facebook or contact ladellok at yahoo.com. You'll be inspired!


MS. OKLAHOMA SENIOR AMERICA 2021,
KATHRYN GORDON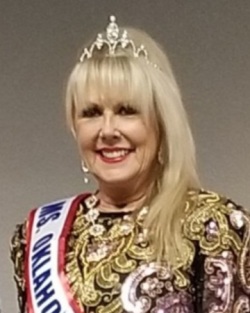 CONGRATULATIONS to KATHRYN GORDON, MS OKLAHOMA Senior America 2021!

Kathryn Carroll Gordon was born in Midwest City, Oklahoma. She became a member of the original Oklahoma Twisters Gymnastic Team in the 1950's. She became 1st Place Jr. Olympic Tumbling Champion, 3rd Place National Tumbling Champion and a member of the United States Pan American Gymnastics Team to Winnipeg, Canada.

She attended Del City High School until her junior year. There she was a Cheerleader. Her senior year she attended and graduated from Milford High School, a college preparatory school in Milford, Connecticut, where she trained in gymnastics for the 1968 Olympics. She attended the 1968 Olympic trials in Long Beach, California where she qualified for the finals. She graduated with a scholarship at the University of Central Oklahoma where she received a Bachelor of .Science Degree with a teaching certificate. She also received awards for the Dean's Honor Roll as well as the President's Honor Roll. She worked on her Masters at the University of Oklahoma as a Graduate Assistant. She has taught in the Mid-Del School system for 12 years.

Kathryn has taught school for 12 years. She has been the owner of 3 businesses and is still working her Cosmetology business in Oklahoma. She owned Edmond School of Gymnastics for 10 years. She was the owner of The Nail Garden in Salt Lake City, Utah for 9 years. She also was a licensed Insurance Agent for 10 years where she received many awards as a Million Dollar producer in Scottsdale, Arizona. She was a Dresser for the Principles for The Austin Lyric Opera. She worked in Beverly Hills on Rodeo Drive for Torrey Steele Boutique.

She was a member of the Salt Lake City Jr. League and Director of the Salt Lake City Jr. She is a member of Eastern Star where she donates her time. She has written "Broken Nails" where a portion of her book sales is donated to House of Hope for Domestic Abuse in Shawnee, Oklahoma. She is a member of "A Class Act Dance Group" and has performed at the 2017 fundraiser for the Miss Senior Oklahoma America Pageant and the 2017 Senior Follies as well as various Nursing Homes and Assisted Living Centers. She is also an actress with Magna Talent Agency and. has done many commercials and training videos. She graduated from a Getting Ahead Class and received a State of Oklahoma Citation signed by Senator Ron Sharp & Representative Dell Kerbs. She attends Westminster Presbyterian Church.

Kathryn is blessed with a daughter and son who are successful as a Computer Engineer with Microsoft in Seattle, Washington and a Graphic Designer in Salt Lake City, Utah. She is proud of her 4 grandsons, 2 granddaughters and a great grandson. She loves spending time with all her family and friends.