The Ms. New Jersey Pageant is administered by board members Johanne Santori, Administrator; Terry Meade, Director; Carole Lelli, President of Cameo Club; JoAnn Gordon, Vice President; Leah Whelan, Secretary; Becki Orsatti, Treasurer; Denise Mechan, Coordinator of Showcases; Josephine Araniti, Public Relations, Choir Director, and our Blog owner.

To learn more, visit Ms New Jersey Senior America Blog, Ms. New Jersey Senior America Pageant or contact TBM5201@aol.com or adejoh@comcast.net.

The 2019 New Jersey Senior America State Pageant will be held at Harrah's Resort & Casino, Atlantic City, New Jersey at 1:00 PM on Wednesday June 5, 2019.


---
MS NEW JERSEY SENIOR AMERICA 2016,
DIANE DELUCA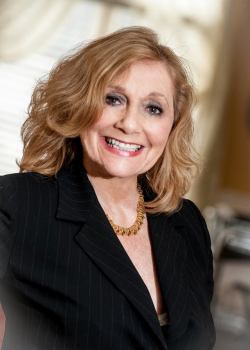 CONGRATULATIONS to DIANE DELUCA, MS. NEW JERSEY Senior America 2016! A special thanks to Johanne Santori and her New Jersey team for a terrific State Queen!

Diane De Luca is a highly qualified professional in the performing arts. She has established herself as a top notch performer traveling throughout the United States and Europe, entertaining crowds on cruise ships, in night clubs, upscale private events and Repertory Theatre.

Originally from Philadelphia PA, Diane spent every summer growing up at the Jersey Shore with her family. Her Mother worked for fifteen years at the Dennis Hotel In Atlantic City and her Father was a musician playing at the 500 Club and many other venues in around Atlantic City. This is when Diane really discovered her love for performing.

Chosen by Lucille Russo to appear weekly on the Garden Pier on Atlantic City's boardwalk, Diane sang and danced her heart out and fell asleep while dreaming about her costumes and future performances.

At the age of 16, she was accepted into the renowned Combs Conservatory of Music in Philadelphia. She then received her Bachelor of Fine Arts Degree from Temple University with a Major in Theater and Communications. While attending college, Diane started performing summer stock programs, traveling and acting in a wide range of plays. "We performed everything from Shakespeare to Neil Simon." Her favorite role was Blanche Dubois from Tennessee Williams' A Streetcar Named Desire. She was cast as Blanche several times and loved every minute of playing that character. After college she continued working in Repertory Theater, in Miami nightclubs where she was the opening act for Kenny Rogers, Sister Sledge and Fleetwood Mac. She was then offered a job to work for "Home Lines" Cruise Ship Co., out of Miami, Florida. What was supposed to be a temporary job turned into a four year stint.

Diane remained in Florida for eleven years where she was the Owner and Artistic Director of "Spotlight Studio of Performing Arts." She was very successful in producing innovative performing arts programs for children and adults including, acting, musical theater, and the study of Musical Instruments. These programs led to exciting summer camp workshops and the production of a variety of shows performed throughout the community. Diane also co-wrote and produced a cable TV show, Tampa Dreams. This was a children's soap opera that was filmed throughout Tampa beaches and business communities, often featuring local residents. Diane was married at the time helping to raise her two step-sons.

In 2005, She returned home to New Jersey to care for her Mother.



---




Senior America, Inc.
P.O. Box 116
Allenhurst, NJ 07711 USA

Phone (732) 746-2598