MS NEW JERSEY SENIOR AMERICA 2014,
DIANE DESALVO-BEEBE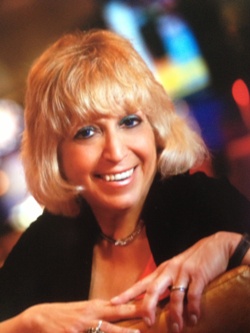 CONGRATULATIONS to DIANE DESALVO-BEEBE, MS. NEW JERSEY Senior America 2014! A special thanks to our committed and dedicated State Director Johanne Santori, for her help, guidance and encouragement!


DIANE DE SALVO-BEEBE entered this world feet first in Brooklyn New York and continues this day to be a very active 60+ person. Diane began her singing career at age 4 when she auditioned for the Ted Mack Amateur Hour. Although she didn't make the final cut, Diane persevered with her singing, tap dance and piano lessons. Throughout her high school years, Diane was involved in the Glee Club, performing solos at both the Winter and Spring concerts that her school hosted. After high school, Diane became involved with the Bay Ridge Repertory Theater group and was part of the ensemble in "Guys And Dolls" and "The Music Man". Later that year, she had an opportunity to perform Off-Broadway in the role of Mrs. MacAfee in "Bye Bye Birdie". While still single, Diane worked for Polydor records and worked with such artists as Gloria Gaynor, The Osmonds, Atlanta Rhythm Section, and CB McCall. She worked with The Emotions, a Doo Wop group and also worked for Paramount Pictures in the Marketing/Advertising department and had an opportunity to work with Marlon Brando during the filming of "The Godfather".

While attending college at night, Diane pursued a career in business. During a break from school, Diane was given an opportunity to perform on a Greek Cruise Line through family contacts in Athens Greece. She performed that summer on the 3 & 4 day cruises, singing in several languages, including one Greek song which she still remembers today! After returning home, Diane became a ski instructor on weekends to curb her thirst for the winter, mountains and love of nature. It was there she met her husband, Warren, of 38 years. During her years as a ski instructor Diane sang on weekends in the Berkshires and the lower Catskills with several rock bands.

After a whirlwind romance, she met her husband on Valentine's Day, got engaged on Memorial Day and married on Labor Day, the day after her birthday, all in the year 1976, they settled down in Oakland NJ. Diane became active in her local church, singing with the choir and eventually became the Director of Music and a soloist for weddings, funerals and weekend masses. Diane has two children, Jaclyn and Daniel. When her children were in school full time, she decided to return to school and finish her degree. She taught K-8 for several years and after she obtained her Masters in Communication/Vocal Performance, she decided to teach on the junior college level. During this same time, she managed to find time to become a licensed NJ Realtor and became quite successful, winning a number of awards. While Diane was working on her masters degree, she had an opportunity to work at WOR-TV as an intern in the creative department, working with such artists as Howard Stern and Jackie Mason.

Although Diane retired from teaching, she continues to this day working as a Realtor. She is also retired from Swiss International Airlines where she was a duty manager at Newark Airport. This position afforded her a great opportunity to travel abroad as well as throughout the US. She is still very much involved with her church singing at mass, holy days and funerals and has sung for several bishops in New Jersey.

Diane is currently involved with the Ms New Jersey Senior America Cameo Club, both on the local level and on the national level as the Alumni Association's National Secretary. With the local Cameo Club group, Diane performs at Assisted Living, Nursing Homes, Veteran's establishments and senior centers. Diane has designed the web site for Ms New Jersey Senior America as well as the annual calendar.

Diane believes that if you want to get something done, make the time for it and it will happen! Diane is grateful for all the assistance and mentoring she has received from her state director, Johanne Santori. Diane is proud to be the 2014 Ms. New Jersey Senior America and represent her state at the finals in October this year.