MS. NEW HAMPSHIRE SENIOR AMERICA 2019,
SANDRA CONNELL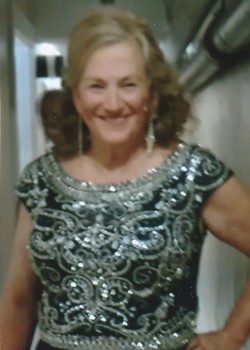 CONGRATULATIONS to SANDRA CONNELL, Ms. New Hampshire 2019!

I was born Sandra Rose Gilmartin to wonderful young parents. Leo Paul Gilmartin and Dorothy Jane Stewart. I had an older brother Jim and a younger sister Pat. My parents exposed us to a wonderful world of entertainment at an early age. I grew up in a house filled with love, laughter and a lot of fun. We entertained at many variety shows. We appeared on WMUR TV, the local TV station, where both of my parents were New Hampshire Celebrities. I attended McDonald Grammer School, Presentation of Mary Boarding school, and St Joseph High School where I met my future husband, John Connell.

After I got married and was blessed with four incredibly wonderful children. I attended UNH in order to get my degree in Early Childhood Education. I opened a Government Funded Day Care for 77 children and 15 teachers. As my children grew older, I decided to enter the corporate world of hotels as Sales Director, wedding coordinator and eventually Hotel Manager for Holiday Inns. I ran and held the political office of Checklist Supervisor for 6 years. I volunteered as a coach for the Boys Club Swim team and helped out with Special Olympics.

In my forties, I became a grandmother and eventually had 6 grandchildren. In my 50's I decided to leave the corporate world of hotels and become a travel agent, tour director to do some traveling to Europe, Hawaii, Virgin Islands, and all over the United States. Once I turned 60, my brother Jim was diagnosed with cancer. I thought I could help people by becoming an LNA and I worked the next 10nyears at the ER at a Manchester Hospital. At the age of 70, I retired and took on the utmost joy of caring for my 2 youngest grandchildren. I continue to work as a part time property manager. I still volunteer when I can at the Moore Center for adults with Special needs, Easter Seals and Master Swim Meets.

I longed to return the world of entertainment so I joined my sister Pat in Clearwater, Florida. She was entertaining and putting on variety shows. I helped her at various Nursing Homes and local variety shows doing singing and comedy roles. I decided to volunteer at the Palace Theatre as an usher and became a member of the Silver Stars. Having been Miss Congeniality in the Miss Bew Hampshire pageant in 1959, I wanted to complete the circle this year, 60 years later, as Ms. New Hampshire Senior America. Now I am looking forward to participating in the Senior America Pageant in Atlantic City, NJ October 2019.