MS NEVADA SENIOR AMERICA 2019,
ELAINE SINCAVAGE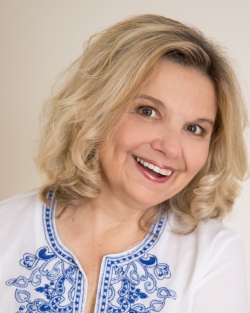 CONGRATULATIONS to ELAINE SINCAVAGE, MS. NEVADA Senior America 2019!

Originally a native of New York City, Elaine's interests include a lifelong love of all things theater. For many years she was actively involved in community theater performing in local cabarets and civic music productions. She has seen just about every musical that has ever graced the Broadway stage during her lifetime.

Elaine presently works in the finance department of a private liberal arts college and earned her Bachelor's and Master's Degrees from Lesley University in Cambridge, Massachusetts. Her current ambition is to pursue a Doctorate in Non Profit Strategic Management. "It's never too late to follow your dreams" she says, "just get out there and do it!"

Elaine is the mother of one daughter, Angelica, who she adopted as an infant from Wuhan, China. Now age 25, Angelica lives and works teaching English with the International JET Program in Kanawaza, Japan. Elaine is looking forward to her next visit to Japan when she will attend the 2020 Tokyo Olympics.

Active in her community, Elaine's charitable and civic efforts include "Fetes for Vets" a charity she founded in 2013 that delivers seasonal gift baskets to hospitalized veterans; foster parenting for the Quincy Animal Shelter; and "Give Kids the World" a charity for whom she loves to raise awareness of and its very special efforts to facilitate dream vacations for the families of seriously ill children.

Elaine is particularly passionate about efforts to reframe how the world thinks about aging and how the topic is oftentimes mischaracterized, misunderstood, and misrepresented. She wants to be involved in forging key initiatives that will promote positive age-related policies to better the lives of seniors around the world.

As a senior citizen, Elaine has competed in a number of pageants including the Petite America/Petite World System in which she won the title of "Lady Petite World 2018." Besides pageantry, her hobbies include a love of reading, writing, fashion, and travelling the unexplored road wherever it takes her.