MS NEVADA SENIOR AMERICA 2018,
LINDA MANNERS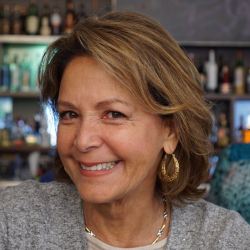 CONGRATULATIONS to LINDA MANNERS, MS. NEVADA Senior America 2018!

I am a US citizen born in New York of Puerto Rican descent. I am a curious and constant learner. My father died when I was 13 and our Mother became both parents. I am so proud to say that she was the best role model any child could have. Hard worker, resilient, entrepreneurial, charismatic and with a great sense of humor. My Mother favorite saying was "the best and only thing I can inherit you all is a good education". An so she did as a widow with six children.

I attended The University of Puerto Rico, Mayagüez Campus which is a space-grant state university located in the city of Mayagüez, Puerto Rico where I studied Medical Technology. My first job out of college was as a nuclear medicine lab technician at the University of Puerto Rico Medical Center. It was a cancer detecting and care facility treatment. I loved science –and still do- and humanities. After three years at the Medical Center I realized that I could not travel the world with my salary at the time.

I read and ad recruiting flight attendants at the Puerto Rico most read newspaper " El Mundo ". All the airlines –three to be exact- Human Resources offices where located next to each other. I bought my first "business suit" and instead of applying for just one airline I told myself I better put my experience, education and that expensive suit to work". I was accepted by the three airlines and got to see the world that I learned about on my textbooks.

Then I got to put into practice my life philosophy of helping others when my husband and I moved to Central America. We started our family business of exporting commercially grown foliage for the European flower market. I was invited to join Vital Voices Global Partnership (Nicaragua) (https://www.vitalvoices.org) as an economic empowerment mentor to women who owned small businesses in Nicaragua. I was humbled by their Award recognition. As a Vital Voices Nicaragua mentor I was invited often to be a speaker at different settings. That is when I realized I needed to develop oral communication and leadership skills. For that I joined the organization Toastmasters International which in turn fostered the much needed self-confidence and personal growth to tackle my next project.

At the present time I am creating a web based project to become a "social connector" between the senior and the millennial. I want to create conscience that older people are enterprising people with great knowledge, gifts and assets that can be utilized to improve their communities. I am determined to make the most of my education, experience, networks – and if I win – the Ms. Senior America Pageant to help those who really need a voice.