MS MONTANA SENIOR AMERICA 2012,
JACQUE MOORE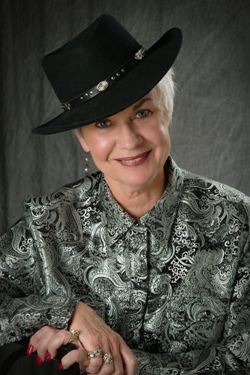 Jacque Moore loves the West, especially those quiet, quaint little western towns tucked in among the pines. But those quiet little towns come alive under Jacque's touch as she becomes involved in their civic events, volunteers to teach and encourages the youth of the community and supports or organizes benefits for worthwhile causes. Her purse as well as her heart is always open to the needs of community and friends. Yard sales are her specialty; not just holding them but attending them. No she is not filling her garage but passing purchases onto a neighbor or even a stranger who is in need. But Her first interest is the Senior Center of these small towns where she becomes involved almost daily supporting their cause and being an advisor and volunteer.

Jacque actually was born in California but she and her husband jumped at the opportunity to relocate in Idaho which brought them closer to Montana where her husband Dan was born. This made it possible for them to purchase the home of Dan's Grandmother in Sheridan Montana and fulfilled their dream of owning a log house in the mountains . This dream was a long time in coming as they gradually refurbished the home. While making these many and frequent visits they have become re-acquainted with family and made life long friends. Montana has truly become home to them.

Meanwhile down in the "big city" Jacque pursued her career as Manager of Relocations for Boise Cascade, retiring after 23 years with the company. But retirement for Jacque did not mean the rocking chair or travel. She went into real estate and after 17 years in that field, she is still active. She has been at the top of her field because of her attention to detail and her personal caring touch with her clients. Her plans for full retirement are still on the burner. But being self-employed has it advantages and she and Dan know where contentment lies for them.

Her family is a big part of that contentment. Their two children, a son and a daughter live close by with their families. After waiting for 60 years to become a Grandmother, she marvels in the joys of watching the three bright eyed grandsons grow and develop.

Jacque has served many times as a judge of State Ms. Senior America Pageants. Her interest in the organization has grown as the years passed and she finally became eligible to participate in the pageant herself. She says it is much more comfortable sitting behind the judges table than in front but feels it an honor to represent Montana in the 2012 National Pageant.