The Ms. Mississippi Pageant is administered by the Mississippi Cameo Club under the direction of State Administrator Bonnie Hughes and her dedicated team: Gladys Hughes, Trina Schelton, Dr. Barbara Mauldin, Jessica Lacour, Debbie Craig, and Barbara Travis. Many thanks for phenomenal State Queens, wonderful pageants, and many years of honoring the Age of Elegance.

The 2019 Mississippi State Senior America Pageant will be held on Sunday, July 28, 2019 at 2:00 PM at the Jackie Dole Center in Hattiesburg, Mississippi.

To learn more, visit Ms Mississippi Senior America Pageant or contact bonnielyngehughes@gmail.com. Plan to be inspired!
MS MISSISSIPPI SENIOR AMERICA 2016,
TRINA SCHELTON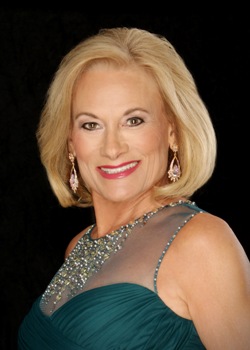 CONGRATULATIONS to TRINA SCHELTON, Ms Mississippi Senior America 2016, and Special Thanks to State Administrator Bonnie Highes for a wonderful State Queen!

Trina Schelton, Ms. Mississippi Senior America 2016, listed in the DAR National Registry of Outstanding Young Women from Mississippi, resides in Picayune. In a song she was commissioned to write for Picayune's 75th Birthday celebration she calls Picayune "A Precious Coin in The Purse of the South!"

Growing up in Poplarville, Trina's love for music and the arts were prevalent from an early age. She sang, danced, and played the piano, writing her own songs and dreaming of one day becoming an entertainer. But God's plan for her was to first have 4 amazing children, be president of the PTA, work for the Pearl River Central school system, be a majorette and drill team instructor, and organize / direct the Miss Pearl River County, Jr. Miss, and Cinderella Miss pageants. As she likes to say "That was the first half of my life!"

In 1989, she moved to Nashville and opened TranStar Recording Studio. While attending a debut party for Garth Brooks, she met former "TEEN IDOL" Troy Shondell who signed her to a publishing deal. Her songs include, " If My Heart Don't Give Me a Break" featured in the movie Cool Runnings, "Go Braves"- Atanta Braves victory song, "Sa-mokin" recorded by Troy Shondell, and "Mirror Moon," "Rock The Pony," and "Strong Like A River." She produced and appeared in the video "Michael's Christmas Prayer," dedicated to homeless children and was a backup singer in the "American Bandstand Survivor Show," "Rockin'at the Rhyman" and "A Magic Halloween".

The song, "TRINA SUE," was a gift to her from Troy when he proposed. They married in 1992 and continued entertaining fans across the US and Europe with artists like Fabian and The Drifters. She was living the life she had dreamed of having when her mom was diagnosed with cancer. Trina put her life on hold to care for her until she lost her battle.

Trina with Troy did countless benefit shows for the Wounded Warrior project, the American Cancer Society, and artists who fell on hard times due to illness.

In 2009, her beloved Troy was diagnosed with Alzheimer's and Parkinson's and Trina became his full time caregiver until she was not physically able to provide quality care. Reluctantly she moved him to a long term care facility and became an honorary activity director. Through his battle, she never gave up hope that God would restore his health, but on Jan 7th, God took him peacefully in his sleep to a place he had actually described in one of his early songs, "Island Of Love In The Sky."

Trina has 4 children, 4 step-children, 23 grandchildren, and 12 great-grandchildren whom she cherishes as her greatest treasures on Earth! She is honored to be representing Mississippi. She believes this Pageant is a Godsend giving her the opportunity to inspire others who are caring for loved ones struggling with devastating diseases. She found a deeper and more compassionate love within herself and she wants to share it with the world.