The Ms. Michigan Pageant is administered by Ms Senior Michigan under the direction of Fran Maiers. President/ CEO and Francine Hachem, Executive Director, along with their dedicated Board Members Rosaline Guastella, Marie May, Toni Sanchez-Murphy, Linda Sisco, and Marion Upper and loyal volunteers Susan Glenday, Sharon Maloney, Rae McIntosh. and Irene Waller.

The 2018 State Pageant was held on July 18. Visit Ms Michigan Senior America Pageant, or contact franmaiers@gmail.com. You'll be inspired!


---
MS MICHIGAN SENIOR AMERICA 2016,
SHARON PETERS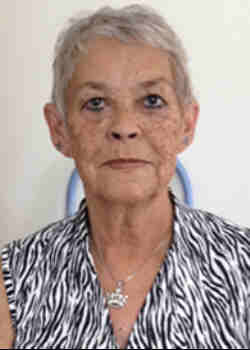 CONGRATULATIONS to SHARON PETERS, Ms Michigan Senior America 2016, and Special Thanks to Fran Maiers and her Ms Senior Michigan team for a wonderful State Queen!

Sharon was born and raised in Michigan and has worked in Michigan most of her life.

She is currently employed by the Saginaw Chippewa Indian Tribe in Mount Pleasant, as an Administrative Assistant for the Fitness Center. Sharon is recognizd as an outstanding employee whose tenure has lasted 18 years. Sharon's passion is teaching a senior aquatics class three times a week to Tribal Elders. Sharon is an advocate for healthy living and practices what she preaches; Sharon works out three days a week at the facility.

Sharon raised 4 chidren and has 9 grandchildren. Sharon's children are all living in Michigan and she sees them often.

Sharon's love of the piano started with an old upright player piano in here Grandmother's living room. At the age of 4 with encouragement from her mother and grandmother, Sharon learned to love the old hymns. She started taking lessons at 9 and continued until she was 17 years old. At 17, she started playing at church and has continued ever since. Sharon particularly loves the old hymms because they are more meaningful and inspirational.

Sharon inherited a small cabin from her mother and father who built the cedar cabin on Lake Brocken near Baldwin Michigan. Sharon enjoys long lazy weekends on the lake fishing and spending time with family.



---




Senior America, Inc.
P.O. Box 116
Allenhurst, NJ 07711 USA

Phone (732) 746-2598