The Ms. Michigan Pageant is administered by Ms Senior Michigan under the direction of Antonia Sanchez-Murphy, President; Kim Whitney, Vice-President; Sharon Maloney, Pageant Director; Marion Upper, Contestant Coordinator; Jo Weber, Stage Manager; and Rosaline Guastella, Treasurer.

The 2020 State Pageant will be held on July 15, 2020 at the Older Person's Commission, 650 Letica Drive, Rochester, Michigan. Visit Ms Michigan Senior America Pageant, or contact tonism24@yahoo.com. You'll be inspired!


MS MICHIGAN SENIOR AMERICA 2021,
BETH GROTHE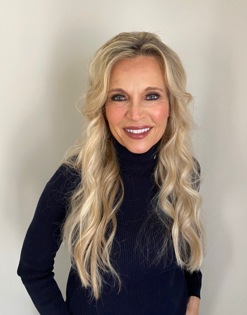 CONGRATULATIONS to BETH GROTHE, Ms Michigan Senior America 2021, and Special Thanks to the terrific Michigan team for a wonderful State Queen!

Growing up in Reed City, a little town, on the west side of Michigan, on a 145 year old family farm with my grandmother, Pansy Louise Proefrock for the first 7 years of my life, made a dramatic difference in how I viewed seniors. My grandmother always was there for us all. As the seasons came and went, the love and respect I had for her and my family grew exponentially. My parents still live on that wonderful centennial family farm and are doing very well for their 83 and 89 years respectfully.

Faith and family have been my key to success in life. It taught me to respect all life and realize that people are all unique because their life journey has each been different. I believe we are each an original by Gods design, on a life's journey, seeking love, acceptance, and affirmation, as we each have a purpose to serve in life.

As a nurse and educator for 42 years , I once had a student say to me "Mrs. Grothe I sure hope by the time I am 50, I'm dead, cuz that is just too old. "Being 54 years at the time, I was startled and overwhelmed by how others view aging. So I began to reach out even more to our youth, and those who respected life, exemplifying how growing older does not have to be a bad thing. Instead, growing older could be a life full of giving and living as we age.

We need to learn to share rather than compare and compete. One is never to old to do this. Focus on your own talents and abilities rather then something you do not possess. As you learn to be happy for others in their real life accomplishments, you will sense your own happiness growing. Each decade of our lives bring new challenges, but also new joy and purpose. Don't walk, run with it! Since I have turned 50, I have sky dived, jumped off a couple of 30 foot cliffs and traveled to over 20 countries with my amazing husband, Todd. I was told by a dear family member that I "would never do much after 50 years of age", but that just fueled my own fire. I really should have thanked them as it fueled my desire to try new things. And here I am, newly crowned Ms. Senior Michigan 2021, representing the Great Lakes State of Michigan.

I have been given many awards in my life, but none compare to my three beautiful children, two wonderful son in laws and four very perfect, delightful Grandchildren. I will continue to serve in this world because helping others brings me so much joy. When all is said and done, some future day when I leave this world and my name is all that is left, I want it to be a name that honors the reality of giving and receiving love and serving gracefully.