MS MAINE SENIOR AMERICA 2011,
FRAN OWENS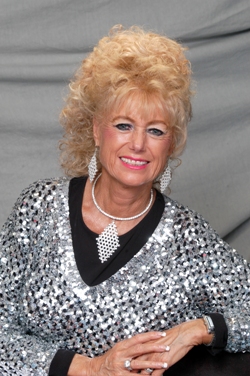 Fran was born in the small town of Bingham, Maine. God gave her the gift of music , and was singing at the age of four when she won a talent contest at the local Grange Hall . At the age of 6, she was studying classical piano, tap dancing, twirling batons, and entertaining at every local variety show in several towns. She was to Maine, what Shirley Temple was to the world. She took lead roles in drama at her school , and also sang in the church choir. In the summer, she played the organ at her church, and taught bible study for 6 years. She played Clarinet in the High School band , and was a majorette in all the parades in town. She started singing with Al Corey's band from Waterville, at the age of 15 and appeared in the local dance spot in Lakewood,Maine where they had an Off Broadway Theater. She entered and won talent contests, singing in Bangor, Maine on local Television all through high school. She won the title of Miss Autorama in Skowhegan, in 1961 and Miss Cosmetology , in Bangor in 1962.

After high school and, graduating from School of Cosmetology in Bangor, she married and started a family. She had her own Beauty Shop, and continued to sing at local clubs, wrote her own songs, and recorded albums singing standards and show material. After a divorce, she was booked out of Boston, and appeared in New York City , Las Vegas, South Florida, South America, The Caribbean, and California. Her singing career supported her and her children and she lived in Kittery, Maine for a few years.

It was an exciting journey as she continued to move and entertain all over the country where ever her contracts took her. She was chosen out of many applicants to do Navy Appreciation week in South Florida and sang on board the USS Kennedy in 1984.

Fran has entertained her entire life, and has recorded over 35 albums, singing, standards, oldies, light country and many original songs about her life experiences. She owned her writing company "For You Only" from 1986 to 1991 which included all occasion cards, wedding invitations and eulogies. Also in 1988 she began to study nutrition, became certified to teach, and began speaking to several groups on "Did You Know Being Healthy is a Choice?"

In 1993 and she left society as she knew it, and took a job as "head cook", at Shepard's Gate Homeless Shelter in Greenville, South Carolina. She lived at the shelter for a year and a half , and found it to be very gratifying to apply herself in ways she had never known as a singer and entertainer. She left Greenville when her mother became a resident at Lakewood Manor nursing home in Waterville, Maine. She knew she was too far away to give her mom the attention she deserved. She moved back to New England where she could sing again, and also be at the nursing home on a regular basis.

Fran found out about Senior America in 2005, and because she had been living in Massachusetts for several years, competed at the age of 64 and won the title of Ms Massachusetts Senior America 2007. She has enjoyed dedicating her life to entertaining in Nursing homes, Assisted Livings, Adult Day Cares and Senior Centers. She has written and recorded many songs for the Senior Age group. She has 7 Cds , has done her own TV show dedicated to Senior America which is on her website: www.franowens.net She has always loved to sew and decorate and developed her own clothes line called "Fran"tastic Creations.

She has re-married, the mother of four grown children, (2 girls and two boys)9 grandchildren and is happier at this stage of her life than ever before. Her children and husband have been very supportive as she continued her career. She loves her relationship with her grandchildren as well.

Fran says, it is never too late to "live your dreams" and it is not looking "back" to where you have been, but rather looking "forward" to where you are going. She is proud to be representing Maine, as that is where my roots are, she says.