MS LOUISIANA SENIOR AMERICA 2013,
GLADYS HUGHES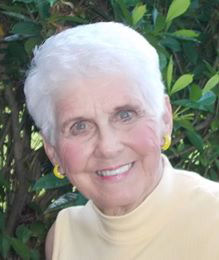 Actor, Director, Author, Cancer Survivor, WWII Veteran, and a Successful Wife for 63 years are a few words to describe Ms. Louisiana in the Ms. Senior America competition.

Gladys' credentials include graduating from the University of Nebraska and receiving a Master of Arts degree from Baylor University in Waco, Texas. For thirty years she chose to teach speech and drama, mostly at East Jefferson High School in Metairie, LA. and at the University of New Orleans. She also coached the Tulane Debate Team. Gladys was selected Louisiana Speech Coach of the Year and one of the top ten educators in Louisiana.

Some of Gladys' other honors include returning to the University of Nebraska to receive the Teacher's College Alumni Association Award of Excellence in 2000. She was named Mississippi Blue Cross Blue Shield 2006 Ageless Hero for Creativity in South Mississippi.

But with all the degrees and awards, what truly shines through is Gladys' talent to entertain. Her fans and co-artists have watched her in action as she trains generation after generation of newcomers to the field of acting. She has worked extensively in children's productions. She has just finished directing or performing in her 71st show since retiring 30 years ago.

At the age of 75, Gladys began another mission–to write a novel. To date, she has written three novels, one novelty book, and one children's book. She has three plays to her credit and is currently performing a one-woman show that she wrote entitled "Seven Books to Ruth."

As a young woman in Nebraska, a profound event occurred–the attack on Pearl Harbor. After completing two years of college, she joined the U.S. Coast Guard SPARS and served her country working in the base hospital in Brooklyn and in Washington D.C. Gladys still gives presentations to high school classes and shows memorabilia from her service in WWII. She is the current president of Mississippi Mates Unit 150 Women of the Seas and has served as the State Director of WAVES National.

What is a woman that doesn't have a great man behind her? On August 5, 2008, Gladys celebrated 63 years with her life mate. He passed away just a week after that celebration and is missed every day. Their union produced two great kids, four grandchildren, and 4 great grandchildren.

Gladys is an active 90 year old woman who still continues to give motivational speeches, counsels women on reconstructive surgery, and serves as an active member and lector at St. Paul's Episcopal Church. For many years she donated blood plasma twice a week and was disappointed when an age regulation made her stop.

Gladys states that participating as Ms. Louisiana in the Ms. Senior America Pageant 2013 is an item on her bucket list.