MS KENTUCKY SENIOR AMERICA 2018,
SANDRA FERONY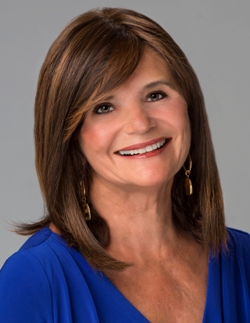 Congratulations to Ms Kentucky 2018, Sandra Ferony!

Sandra Ferony was born in Western Kentucky (not far from Nashville) and is a graduate of Murray State University in Murray, Kentucky. Her mother who sang in a trio with her sisters influenced her musically. Both her uncle and her grandfather played the "fiddle," and Sandra remembers her own version of clogging during songfests.

She started singing when she was two and grew up listening to recordings of standards like "Paper Doll" and "It's Only a Paper Moon". Sandra was hooked on performing the moment she sang "All I want for Christmas is My Two Front Teeth" in an auditorium-filled crowd of parents. To this day, she loves to get that microphone in her hand. Sandra was always singing popular songs, and her first grade teacher would learn those lyrics from her. That teacher chose her to be leader of the rhythm band, but Sandra was quite disappointed when all the other children got noisy instruments and she just got a stick for directing.

In high school, she attended the Kentucky Youth Assembly (KYA) where students from all over Kentucky briefly took over the government at the Capitol. She was honored to receive one of only eight trophies awarded. Sandra served as Chaplain of the Senate and chaired a committee. In 1999 Sandra was commissioned by Governor Paul Patton to be a Kentucky Colonel.

Music has been a major part of her life, and when encouraged by her family to major in business in college, she took as many fine arts classes as possible. Sandra was selected to sing in the Murray State University a capella choir, touring and performing in Chicago and New York City her senior year.

Her mother at the age of 71 became a prolific songwriter after Sandra's father died. Many songs were inspired by his memory. Her song, "Bluegrass of Kentucky" is included in Sandra's CD "The Song Plays On". Sandra's son, Jeff's, original song "Wind Whispers," is the title song on her second CD.

Sandra's platform is the Military Warriors Support Foundation. She spent the day assisting a wounded warrior family prior to them receiving the key to a mortgage free home. Over the last ten years the foundation has awarded over 800 homes to wounded heroes and their families.

Sandra plays piano, electronic keyboard, organ, guitar, ukulele and clarinet. She has been a member of Sweet Adeline's, the Springfield Chorale, and the Alexandria Singers. She has directed choirs, played the organ for 20 years in churches and at weddings and funerals in Northern Virginia while raising her family. She taught folk guitar and entertained at Fairfax County centers for active adults. She is a member of SAG/AFTRA and has had several roles as a background extra in movies and TV. She modeled on Retirement Living Television in Baltimore.

Sandra is married to Ron Maierhofer, and they are blessed with eight children and 19 grandchildren. Sandra and Ron taught dance classes in Alexandria, Virginia.