MS KENTUCKY SENIOR AMERICA 2014,
DEBBI MILLER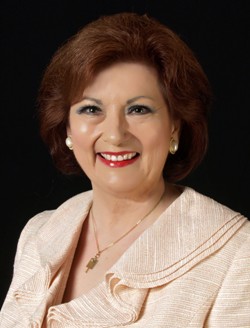 As Debbi tells it:

Music is my first love, the universal language that brings us all together. Though I was born in Albuquerque, New Mexico, I have lived in 9 States and 6 foreign countries, and I have absolutely loved getting to know people from many cultures and climes. I play violin and piano, I conduct musicals and arrange vocal numbers, but primarily, I sing!

I was chosen as a Presidential Scholar (only two per State) and a National Merit Scholar, and I was concertmistress of my All-State Orchestra in high school, but I also won a state-wide singing competition! I attended Birmingham-Southern College on a full-tuition scholarship, where I earned two degrees (B.M. in vocal performance and a B.A. in music) summa cum laude. I was elected to Phi Beta Kappa and I was President of the Mortar Board. I did my graduate degree Master of Music in vocal performance, at the University of Texas in Austin, where I was President of Sigma Alpha Iota. I won the San Francisco regional opera auditions, and attended the Music Academy of the West in Santa Barbara.

I have been married for 40 years to Ambassador Terry Miller, whose career took us to Milan, Italy; Bridgetown, Barbados; The United Nations, New York City; Paris, France; and Wellington, New Zealand. Along the way we had three magnificent children: Christopher, Ransom, and Vanessa, who are the deepest joy of my life. The whole family joined musical forces last year to professionally record a very special CD entitled "Songs of my Father," in honor of my father's 90th birthday.

I have performed in 16 leading opera roles (including a world premiere) with the Washington Opera, New Zealand Opera, Ente Comunale di Treviso, Birmingham Civic Opera, Contemporary Opera of America, and other companies around the world. The US Information Service selected me for a series of good will concerts in the Caribbean, and I have done countless solo and oratorio concerts and recitals in France, Germany, Italy, New Zealand, and throughout the United States. I have won prizes in 7 International vocal competitions, and worked with great conductors like Victor Borge, Peter Paul Fuchs, John Mauceri, Maurice Abravanel, Hugh Wolff, Armando Gatto, and Joe Rescigno. I have plenty of other work experience, as an office manager, a bookkeeper, a translator, a nurse's aide, and as both a piano teacher and a voice teacher/coach.

Over the past twenty-five years, I have volunteered thousands of hours for such organizations the Boy Scouts of America, the Little League, Save the Children, TESOL, Kings Park West Civic Association, Church of the Good Shepherd and the Associates of the American Foreign Service Worldwide. I received the coveted Lesley Dorman Award from AAFSW for outstanding service and the 2007 "Best of Braddock" and the 2014 "Outstanding Senior" Awards from the Braddock District Council. In my free time, I love to work in the garden! I am passionate about yoga, Jazzercise, bridge, my book club and Sudoku. I designed and made my own wedding dress, and I adore going to musums. I love to travel internationally, and I take deep pleasure in learning new things.