MS KANSAS SENIOR AMERICA 2019,
MARGO JACOBS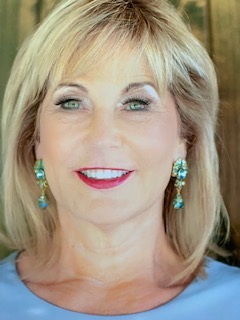 CONGRATULATIONS to MARGO JACOBS, Ms. Kansas Senior America 2019!

My name is Margo Jacobs; my life began near Nashville, Tennessee, but I spent the first ten years in Chambersburg, Pa. performing in neighborhood plays for anyone who would watch my renditions of Mae West, Deborah Kerr, and Audrey Hepburn. I always knew I was destined for the stage though it wasn't until nearly sixty years later…

My father, aka "Big Will" was a practical man, a WWII veteran, and the greatest storyteller I have ever heard, and while he usually gave me freedom, he did not support my passion to be on stage. However, I did manage to slip in college performances until I was busted…My father was such a charismatic man it took years to understand that he was the person I was drawing my creative inspiration from. Currently, I am in the process of completing my first novel: Iron-clad Wills, a tribute to Big Will who was the center of my universe and so like Atticus Finch in To Kill A Mockingbird that the "underdogs" in our town often rushed to him for help.

I married at 29, became a mom at 42, and began officially acting after losing my father just months shy of my 60th birthday. I have been cast in several plays, including Macbeth, It's A Wonderful Life, and Fiddler on the Roof. I am a member of the Renaissance Players (acting), and belong to a vocal group that sings at special events & nursing homes.

Like most people I have had to deal with adversity. In 1988 I was diagnosed with a devastating illness from the side effects of DES, a hormone my mother took that destroyed my health, required multiple surgeries, and a hysterectomy at 37. The realization I would never have children was hard, but my husband Phil and I adopted a beautiful baby girl who is now 22. I believe my story isn't about telling you about my hardships though, but rather about the people I have encountered who---no matter their circumstances-raised me up with their courage, kindness, and passion. Disappointments have taught me resilience and patience.

For thirty-nine years, I have volunteered for national, state, and local charities as well as universities. Last year, I generated over $200,000.00 in college scholarships. One of my most meaningful experiences has been assisting with fundraising for adoptions (Dave Thomas). Three other organizations I've been involved with have been The National Kidney Foundation, Payne Stewart Golf Classic, and The American Diabetes Association. In 1995 I was named Kansas law-educator of the year for my work with the high school mock trial students, a program I founded in Kansas in 1993. I currently mentor high school students in preparation for the college and tutor students with learning differences.

My mantra is: always choose kindness; be the first one to smile! I believe an elegant woman with both gratitude and passion is a timeless treasure.