MS KANSAS SENIOR AMERICA 2018,
MYKE HOLT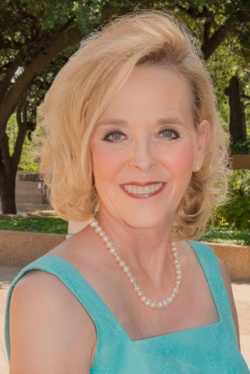 CONGRATULATIONS to MYKE HOLT, Ms. Kansas Senior America 2018!

Myke Oates Holt was born on Christmas Eve, and has always loved Christmas, which she calls the magical time of year. She is the middle child and has two sisters.

Myke started singing and dancing at the early age of 5 years. Her favorite costume at age 5 was her dance costume that she wanted to wear 24/7. Throughout her elementary school years, she constantly dragged her mother to every audition she knew of, even auditioning acapella if there was no accompanist. In high school, Myke had the lead role in "The Boyfriend," which solidified her love of musical theatre.

Following high school, Myke's goal was to become a professional singer. She received a voice scholarship at Tyler Junior College and was selected for a supporting role her freshman year in the musical "No No Nanette." While there, she also performed with a group called "Harmony and Understanding" in the Miss Texas Pageant in 1974. In 1976, she was selected to sing and travel in a group called "Destiny" which represented Dallas in the Bi-Centennial. She has sung in Carnegie Hall with the TCU Symphonic Choir, directed by iconic New York City Pops director, Skitch Henderson; and also sang on the Today Show. Myke has sung in community theater, including Beauty and the Beast, The Birds, Music Man, The Sound of Music, and the most special one: Fiddler on the Roof with students from the UT Arlington Theatre Dept. She has sung in several Big Band Concerts and performed solos in church Christmas Cantatas. She solely produced an Al Denson Christian Concert in Weatherford, TX – responsible for everything from tickets, to sponsors, to sound equipment, to contracts.

When Myke was 39 years old, she returned to college at Texas Christian University. She wanted to set an example for her two daughters that anything is possible with hard work, determination, and grit. It took her 5 years to complete her education, and she believes if she can do it, anyone can do it. Myke graduated Magna Cum Laude from TCU in 2000 with a B.S. Degree in Journalism, majoring in Advertising and Public Relations. For the last 13 years she has been a professional fundraiser; working in higher education the last 10 years of her career, and almost 3 years before that as Executive Director of the Ronald McDonald House in Fort Worth. She believes wholeheartedly that God has given her a gift to fundraise. She is honored she's had the privilege to impact the lives of many people, from the families she worked with at the Ronald McDonald House to the first-generation college students whose lives have been forever changed because she was able to raise scholarship funds for them to finish their degree. Myke volunteers her time mentoring students and helps them re-start as many times as it takes to finish their education.

Myke has been wed to Steve Holt for 41 years. They are blessed with 2 daughters, 2 sons-in-law, 2 granddaughters, and 2 grandsons.