MS KANSAS SENIOR AMERICA 2016,
PATRICIA LaRUE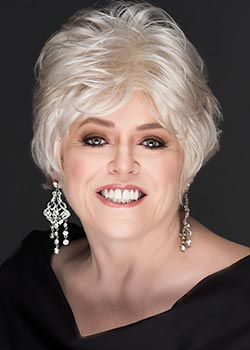 CONGRATULATIONS to PATRICIA LaRUE, Ms. Kansas Senior America 2016!

In 1962, while car "cruising" with several girlfriends, I found my forever love: a handsome young man from Missouri. We became "Mr. and Mrs." in 1967 and are still traveling the world together. Along this journey we acquired one daughter, a son-in-law and two grandchildren.

I lived happily in Kansas for 56 years only moving to Arizona when my daughter, who lives in Arizona, called saying she and her husband were going to have a baby.

Rising to the top of the list for my life's activities are: Playing with my 2 adorable grandchildren, facilitating water exercise for residents living at Sierra Winds, organizing elegant teas for the Sierra Winds women, acting as Secretary for the Arizona Cameo Club, reading, traveling, drawing colored pencil abstract images of women and collecting art.

I worked for the Environmental Protection Agency (EPA), Region VII, for 30 years. My Region covered Kansas, Iowa, Missouri and Nebraska. I started with the Agency as a typist and rose to the position of Grants Management Specialist. I was honored when EPA employees elected me the first President of EPA's union the National Federation of Federal Employees, Local 1205. I was elected their President for two more terms and then held various positions in the Union until I retired. It was a wonderful learning experience for me as I met and interacted with a variety of different people, all of whom had significantly diverse ideas on how THEY wanted a problem in the workplace handled. My greatest Union accomplishment was creating, negotiating and helping to implement the first ever EPA flexitime policy.

1993 slapped me down with one of the greatest challenges of my life. A horrific car accident left me with a broken body and slashed from head to toe by glass particles. I climbed many hurdles to overcome (among other things) a shattered pelvis and hip which required a hip fusion and later a replacement to a hip which had no bone to pin the replacement to. My recovery was slow but unwavering. Life went on enthusiastically for 21 years. However 2015 pummeled me with one blow after another with surgeries for a replacement to my hip replacement (which still had no bone), two hip dislocations caused by the fact that there was still no bone to pin a replacement to and a fusion to my spine. Finally my new outlook has become: disability is a matter of perception. I believe everyone has something about themselves that they feel is their weakness – their disability. Now I think of disability as anything which undermines my belief and confidence in my own abilities. So, I don't let other people define me. I don't let others tell me who I am or who I should be. I believe how others see me is not important and how I see myself means everything.