MS. IOWA SENIOR AMERICA 2016,
DIANE BEEBE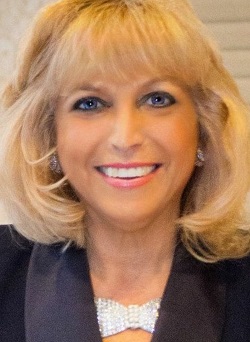 CONGRATULATIONS to DIANE BEEBE, Ms. Iowa 2016!

Although Diane entered this world feet first, nothing has stopped her from moving her feet or singing her heart out in pursuit of entertaining her audience! At age 4 she auditioned for the Ted Mack amateur hour and although Diane didn't make the final cut, she persevered with her singing, tap dance and piano lessons.

Throughout high school, Diane performed in the glee club and the theater club. After high school she belonged to a theater group in which she performed as part of the ensemble in Guys and Dolls and The Music Man. Later that year, she had an opportunity to perform Off-Broadway in Bye Bye Birdie in the role of Mrs. MacAfee.

Diane obtained several degrees - AAS degree in Business Administration; BS degree in Marketing graduating Cum Laude and MA in Communication/Vocal Performance, also graduating Cum Laude.

In the early 70s, Diane worked on a Greek Cruiseliner as a vocalist, performing on the 3 & 4 day cruises during the summer, singing in several languages. In her spare time, during the winter months, Diane was a ski instructor in the Catskill Mountains, where she met the love of life. This year her husband Warren, a graduate of the University of Iowa, and Diane are celebrating 40 years of marriage.

During her life, she worked in several different careers including Computer and music teacher for grades K thru 8; college professor of Communication; Assisant manager for Swiss Int'l Airlines and currently a licensed part-time Real Estate agent dealing with senior communities, sellers, buyers, short sales and foreclosures.

Diane has traveled around most of the United States, Europe, most of the Caribbean, and Mediterranean. Diane is currently working with the organization Patriot's Angels, to send small supplies and letters to our military serving overseas. She loves to perform at Veterans establishments as her late father was on the USS Birmingham and carried FDR off the ship during WWII and her husband is a veteran of the Vietnam War.

Diane believes that if you want to get something done, make the time for it and it will happen! Diane is a true HAWKEYE fan and wishes nothing but the best for all sports fans from the University of Iowa. She was happy to see that the University of Iowa was in the Rose Bowl this past January. She is excited to be representing Iowa in this National Pageant in 2016.