MS ILLINOIS SENIOR AMERICA 2018,
KIMBERLY ALBRECHT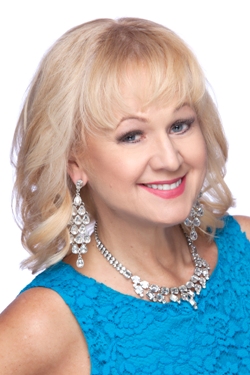 CONGRATULATIONS to KIMBERLY ALBRECHT, Ms Illinois Senior America 2018!

"Oo ee, oo ah ah, ting, tang, walla walla bing bang!" This popular, "Witch Doctor" ditty by David Seville, was Kimberly Albrecht's first recorded song, dutifully captured on her parent's reel to reel when she was two years old. Ever since, singing has been Kimberly's passion.

In high school she "saved her pennies," by sweeping hair, babysitting, for the thrill of touring Europe with the Southern Michigan Youth Chorale. Attending college on three separate scholarships, she had the honor of performing with the University of Michigan Choral Union under world-renowned conductors Eugene Ormandy, Robert Shaw, and Michael Tilson Thomas. During these years she concurrently founded the University of Michigan Women's Glee Club, for which she received the Panhellenic Achievement Award; held several offices with Alpha Chi Omega, volunteered at the student radio station, and cooked in the sorority kitchen. Summers went "swimmingly" as a pool attendant at a nearby apartment complex. Kimberly graduated cum laude with a Bachelor of Arts in English and Theatre Arts/Radio, TV, Film from U of M; and a Master of Arts in Radio, TV, Film at Northwestern University.

As a television writer-producer-director, Kimberly worked with Ron Ascher Productions, Electronic Field Productions, and Catholic Television Network, and her own Kimberly Productions, handling clients and projects such as: Wickes Furniture and McDade's, "The Superchargers" and "American Catholic" syndicated television series, Canadian Broadcasting Network Stanley Cup Playoffs, as well as corporate and educational productions.

While raising her three children, Kimberly volunteered as publicist and vice president of the Good Shepherd Hospital Auxiliary; served in various capacities with the Girl and Boy Scouts, Barrington school district classrooms, sports and arts boosters, and sang for innumerable church and community events. She was also hired to write a "positive news" column for the Pioneer Press, which has made her deadlines for over 20 years. Later, Kimberly served as Cherub Choir Director and Communications Director for ten years at Barrington United Methodist Church while pursuing a Vocal Performance Music Major at Harper College.

All along, Kimberly has continued singing professionally – anywhere and everywhere she has been led! She has studied voice with over eight talented teachers and coaches; and has performed as a soloist with a cappella groups, opera companies, sacred music festivals, pop bands, musical theatre and cabaret ensembles; in venues and events such as stage shows, night clubs, charity benefits, weddings, memorial services, and even cruise ships!

She is currently a vocalist with Jazz Pizazz, Bravissimo Vocalists, Atonement Church, Barrington Village Singers; and recently performed and produced for Elgin Opera. Kimberly also founded the Atonement Children's Choir, and feels extremely blessed to be able to continue working with young children.

Of course, none of this would have been possible without the gift of God's grace, and the loving support of her wonderful husband, Dr. Robert Albrecht, and children, Ashley, Eric, and Brittany. Kimberly is proud to join the ranks of the "60 plus," and looks forward to the adventures and challenges to come.