MS IDAHO SENIOR AMERICA 2016,
LINDA LEE SMITH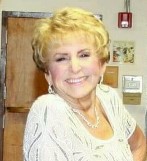 CONGRATULATIONS to LINDA LEEE SMITH, Ms Idaho Senior America 2016!

Linda Lee Green Smith was born in 1943 and grew up in Pocatello, Idaho. She was the first born of four children. She attended Jefferson Grade School, Irving Jr. High and Pocatello High School. She graduated from Idaho State University with a BS degree in 1966, studying physical education health and minored in drama. Always being athletic and knowing she could do anything, she won the Idaho State Championship in Synchronized Swimming and High Board Diving. Linda married in 1965 and had three children, Eric, Jennifer and Steven. Bringing children to Earth was one of lifes greatest joys. As a child she took dance lessons, voice lessons, piano lessens and still loves music and dance. She loves people and service and bringing joy wherever she goes. She's traveled the world including Israel, London and France and loves to cruise. Traveling by bus, plane, boat or train if it is running she wants to be on it. She married Wallace Smith in 2003. Retired from 20 years of teaching 7th and 8th grade at Burley Jr. High. She loves volunteer work. She is a joyful, animated, contented, woman.