MS GEORGIA SENIOR AMERICA 2015,
JERRE SAINT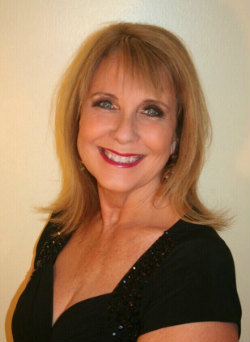 CONGRATULATIONS to JERRE SAINT, Ms Georgia Senior America 2015!

Jerre would like to thank the Georgia Cameo Club and its director, Joanne Brehm, for their support and encouragement.

Jerre Saint, born in Dublin, Georgia, is a true Georgia peach. She resides in Roswell, Georgia with her husband, and nearby are her three daughters, and her first granddaughter. She is an active member of her community and regularly attends services at Roswell First Baptist Church. Her husband, Ron Saint, is her rock of twenty-four years. Together they own a sassy Chihuahua and a rescue Australian Blue Heeler.

Jerre graduated from Valdosta High School. Her extracurricular activities included competition dance team, marching band, DECA and women's basketball. By the end of high school, her dance team had performed at the inaugural Peach Bowl Parade and two Mardi Gras parades. She also performed as a solo feature twirler for many professional football games. While attending Valdosta State University, she was a member of the Blaze Dance Team. She would go on to receive her B.S. from the University of Louisville.

She began her love of teaching at the age of fifteen. Every Saturday, she would give twirling lessons to over fifty little majorettes in her backyard. She later became a Head Start teacher aid, high school flag and baton camp instructor, swim lessons coach at the Boys and Girls Club of America, and was sent by Reader's Digest as a Georgia representative fitness workshop leader in Salt Lake City.

Jerre is a third generation public school teacher with over thirty-seven years of experience. Her public school career includes teaching health and physical education at the elementary and middle school level. She is currently a fitness gram coordinator, gymnastics coach, and leader at Haynes Bridge Middle School. In 2002, she received Fulton County School's Physical Education Teacher of the Year Award. She has been a parks and recreation, all-star, and varsity cheerleading coach for over twenty years. Coaching cheerleaders has played an important role in Jerre's life. She believes and instills in all of her athletes that cheerleading is not just about the cute skirts, but about giving back to your community. Over the years, Jerre and her cheerleaders have participated in many charitable activities, including: The Susan G. Komen three day walk, volunteering at the Roswell Foster Care Center, packing backpacks for the under privileged, caroling at senior communities, and helping bring food to various women's shelters in Warner Robins, Georgia.

Jerre and her husband are currently co-owners and teachers of a Risk Reduction Program School in Alpharetta, Georgia.

Jerre is always ready to go somewhere. She has traveled throughout Europe and has been as far west as Hawaii and Alaska. Among her favorite places to visit are the beaches at Jekyll Island, historical landmarks, especially Washington D.C., and Walt Disney World.

When she slows down, her hobbies include: reading, exercising, crocheting, hosting game nights, and going to the movies.

As a native Georgian, she is proud to represent her state.