MS FLORIDA FIRST RUNNER-UP AND MS FLORIDA SENIOR AMERICA 2016,
ROSE TYDUS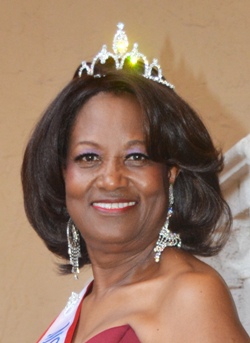 CONGRATULATIONS to ROSE TYDUS, Ms Florida Senior America 2016, and to Ms. Senior Florida, Inc., on a terrific State Queen!

Rose Tydus was elected to the office of Commissioner of the City of Opa-locka, Florida in the year 2000, and also served as Vice Mayor during that term. Ultimately Rose served three 4-year terms. She has been referred to as "the Commissioner with the voice of reason."

Prior to being elected to the Opa-locka Commission, Rose is noted as Opa-locka's first African American City Clerk (1976-1986), also heralding as the first African American City Clerk in Miami-Dade County. When she is referred to as a politician, Rose does not hesitate to respond by saying, "I do not consider myself a politician. I am a woman who loves the Lord and loves serving people; being a Commissioner affords me the opportunity to do both effectively."

Ms. Tydus' exemplary work ethic, commitment, compassion for people, love for God and the performing arts has enabled her to serve in various capacities in the church community, government and the field of entertainment. Through the years, Rose held a number of positions that allowed her to hone her skills managing the social and evangelistic side of Christian organizations and other social service agencies.

She was the founder and CEO of the Opa-locka Rescue Mission for 16 years, a non-profit faith based organization that provided hope and social services to needy families and the homeless. She also assumed the role of Administrator and Youth Director at Stanton Memorial Baptist Church, North Miami, Florida. As Youth Director, Ms. Tydus developed and implemented programs that enhance the social, recreation and educational skills of at-risk youth.

Rose's experience in the performing arts as a professional dancer, singer and writer has enabled her to write and produce several broadcasts for public television (WPBT) including, "Black Folk Songs" and "The Gospel and all That Jazz." Her performing arts experience has also enabled her to utilize her talents as a community service.

As a poet and motiviational/inspirational speaker, Rose performs at public school assemblies and church youth groups promoting abstinence, positive lifestyle and academic excellence. She was recently recognized by Miami-Dade County for her outstanding volunteer work at the Miami-Dade County Boot Camp, a rehabilitative program for criminal young people (15-25 years of age) who have been adjudicated as adults.

Ms. Tydus is currently the founder and CEO of TROPH Cards, a Christian greeting card business.

Senior America is honored to have Ms. Tydus serve as the new State Pageant Administrator for Florida!