MS FLORIDA SENIOR AMERICA 2020-21,
BERYL THOMPSON-McCLARY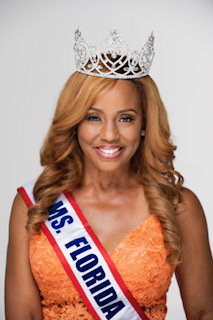 CONGRATULATIONS to BERYL THOMPSON-McCLARY, Ms Florida Senior America 2020-21!

With a legal career spanning more than 25 years, Beryl Thompson-McClary's success as a trial attorney can be attributed to three uncommon, dynamic, yet essential features: hard work, a sharp mind, and grit. These characteristics shape her approach to every aspect of life ó whether itís being a wife and mother to seven children, The Neto one of the leading Family Law high net worth cases and Criminal attorneys in Central Florida. All it takes a single meeting to know Beryl Thompson-McClary is a woman of authentic determination to excel and makes it her life mission to make sure others around her exceed their potential too.

Thompson-McClary grew up in Leesburg, Florida, a small agricultural town outside of Orlando, in the midst of the Jim Crow South, the youngest daughter of a black business owner in the citrus industry and an insurance agent with one of the first black owned companies. She learned from her parents that hard work doesn't guarantee success, but it is a necessary requirement to achieve it. She went on to enroll at the University of Florida on a full-ride scholarship, where she graduated with honors and excelled in intercultural and international relations. Immediately after, she became a JD candidate at the University of Florida, earning her degree as one of the few pioneering black women in the class.

Thompson-McClary has a tough, fighter's spirit, a spirit she brings to each case, ensuring her clients always receive the personalized plan and attention to detail they deserve.

Thompson-McClary spent many years at one of the largest law firms in Orlando, but after the firm's rising reputation of racism, Thompson-McClary felt the need to connect with her clients more deeply and embark on a journey of her own. She decided to start her own private firm in 1985 where she specializes in complex family, criminal and probate litigation. McClary's track record in her practice has been outstanding, practicing in federal Middle District of Florida and the Eleventh Circuit Court of Appeals as well as state and local government. She successfully obtained the reduction of sentence of release of a prisoner sentenced to life imprisonment at 18 years of age after serving nearly 30 years, as well as successfully represent a community in halting the acquisition and building of an expansion by a hospital corporation over historical roads and properties owned by African American residents.

But it's not all gavels and juries when it comes to Beryl Thompson-McClary. As the wife and career manager of the Founder and lead guitarist of The Commodores, Thompson-McClary enjoys attending music festivals and concerts with her husband. She is also an author. Her new book The Next Chapter was written to encourage people to perform, dream, and believe beyond their expectations and to never let your age deter you from achieving excellence. Recently, McClary and her husband Thomas became empty-nesters. When Thompson-McClary isnít advising and fighting eagerly for her clients, she's visiting one of her seven adult children in Nashville or New York.