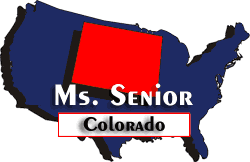 The Ms. Colorado Pageant is administered by the Colorado Cameo Club under the direction of Rene Green and her dedicated team: Yvonne Guzman Rodriguez, Asst. State Pageant Admin; Carol Swanson, Production Manager; Judy Rowe and Camella Landrum, Asst. Product Manager; Jan Harley, Open Number Director; Yvonne Guzman Rodriguez and Shari Ortiz, Judging Committee; Kathy Saidy, Awards/ Trophies; Shari Ortiz, Program Books; Pat McHenry, Reception/stage design; and the terrific Cameo volunteers.

Many thanks to Ms Green, the Colorado Cameo Club, and former administrators Shari Ortiz and Debbie Buczkowski for phenomenal State Queens and wonderful pageants!

The 2018 Ms Colorado Senior America State Pageant will be held on May 26, 2018 at 2 pm at the Lone Tree Arts Center, 10075 Commons Street, Lone Tree, Colorado, and tickets are now on sale at www.lonetreeartscenter.org. For more information, see www.colsramerica.com. Plan to be inspired!
.