The Ms. California Pageant is operated by Ms. Senior California of America, Inc., under the direction of State Administrator, Elvia Harris.

Many thanks to Ms. Harris and her dedicated team of volunteers: Ed Harris, Sound Engineer; Karen Freeman, Judges' Foreman; Linda Hodges, Secretary; Jane Wagner, Judges' Host; Bobbie Dion, Ticket Sales; Lori Stangel, Contestant Liason; and Marilyn Anderson, Photos. Many thanks for their hard work and commitment to the Age of Elegance!

For more information, email contact@msscalifornia.net or visit California Senior America Pageant. Plan to be inspired!


MS CALIFORNIA SENIOR AMERICA 2016,
JOYCE SCHUMAKER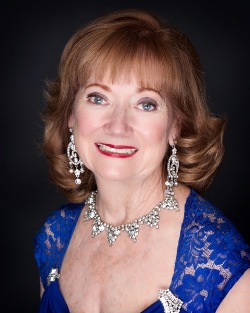 CONGRATULATIONS to JOYCE SCHUMAKER, Ms California Senior America 2016!

Joyce has been a performer, dancer, theater teacher and choreographer for over 40 years. She choreographed for eight seasons at San Diego's Starlight Musical Theater, and is currently choreographer for the San Diego Follies, a lavish production featuring performers aged 55 and older. As a performer, she danced and played featured roles in musicals such as Music Man, Hello, Dolly, and 42nd Street. She has appeared with notables such as Leonard Nimoy, Dorothy Lamour, Joanne Worley, and most recently, Will Farrell.

Joyce has her California teaching credential and taught dance and theater at the high school level for 33 years. She also taught tap and musical theater dance at the University of California, San Diego. Awards include the San Diego Theater Critics Award for Best Choreography for My One and Only at Starlight Musical Theater and the Bravissimo Award for "Excellence in Theater Education."

Joyce still studies dance and performs, but also finds time to give back by volunteering. She is a member of the San Diego Civic Youth Ballet Alumni Association, on the board of Christian Youth Theater, a nation-wide youth theater organization, and a member of San Diego Civic Dance Arts. She also volunteers her time teaching seniors tap and theater dance. As you might imagine, Joyce is an advocate for arts education for all ages.