The Ms. California Pageant is operated by Ms. Senior California of America, Inc., under the direction of State Administrator, Elvia Harris.

Many thanks to Ms. Harris and her dedicated team of volunteers: Rita Pardue, Jane Wagner, Marilyn Anderson, Lindy Hodges, Bobbie Dion, and Cheryl Valenzano for their hard work and commitment to the Age of Elegance!

The 2019 California State Senior America Pageant will be held at 1:30 PM on Sunday, June 9, 2019 in the Joan Kroc Peace and Justice Theatre at the University of San Diego. For more information, contact eharris5@san.rr.com or visit California Senior America Pageant. Plan to be inspired!


MS CALIFORNIA SENIOR AMERICA 2015,
REINA BOLLES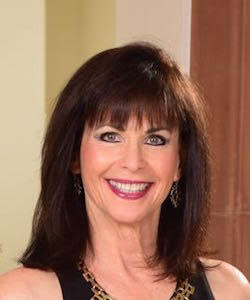 CONGRATULATIONS to REINA BOLLES, Ms California Senior America 2015!

"I LOVE show business!" says Reina. "My passions are teaching dance, rehearsing, performing, and creating shows. I get to work hard, develop lasting friendships, and have fun at the same time. What could be better?"

Reina feels extremely blessed that her career has been a wonderful balance between teaching, choreographing, and performing. Her first love is dance. After graduating from USIU School of Performing Arts as a singer/dancer, Reina went to work. She starred as Tiger Lily with Cathy Rigby as Peter Pan, worked with Rhonda Fleming and Karl Malden, danced in Kismet at the L.A. Music Center, and was an extra in television and movies. In the last two years, Reina has enjoyed singing and dancing for over 50 retirement homes and clubs in San Diego County.

As a dance teacher, Reina has taught ballet and theater dance to students ages 4-87 and currently teaches theater dance to people of "chronological excellence".

Choreography and staging shows is something Reina has done since high school. Some of her favorite years were working with her husband Ron, directing and choreographing their internationally known show choir. They took the group to 17 countries on cultural exchange tours. "My favorite part of this experience is not that we taught singing and dancing and got to travel the world, but that we were able to watch these high school kids become fabulous citizens". Recently, Reina was invited by the Mayor of her city to be the Artistic Director for the opening AND closing Chula Vista Centennial Community Concerts.

To give back to the community, Reina serves as the head of the Greeter Ministry at her church where she has also sung in the Chancel Choir and played in the Bell Choir. She created and performs in the San Diego Follies Touring Company with performers donating their time at retirement homes and local civic organizations. With her husband Ron, Reina co-founded a performing arts program at their church, and together, co-authored the award-nominated book, "Learning That Lasts A Lifetime", from which all proceeds go to support music education in the schools. Additionally, "Bolles Arts International" has provided over $30,000 in scholarships and grants for students majoring in music or dance.

Reina believes wholeheartedly that her greatest blessings are her family; Husband Ron of 36 years, two daughters and their husbands, and four grandchildren.