MS CALIFORNIA SENIOR AMERICA 2014,
DR. GAYLA KALP JACKSON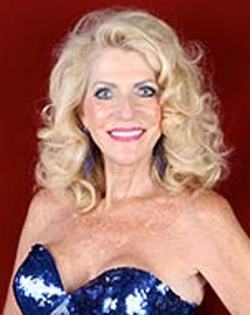 CONGRATULATIONS to DR. GAYLA KALP JACKSON, Ms California Senior America 2014!

Dr. Gayla Kalp Jackson started her career as a professional actress on stage, tv and film and toured all over Europe with the American Theater Company. After that career, Gayla went back to college and earned two Masters Degrees in Education and Psychology and a Doctorate in Business Administration. She had a successful International cable television management firm for 23 years and was a featured columnest for three industry magazines. She was named "Queen of Cable Television" by the National Cable Television Assn. After earning her Marriage and Family Therapy license, Gayla's third career was as the psychotherapist for the Glendale Police Department working with gang youths, troubled teens and parents. Gayla is now retired and is even busier with charity work, doing presentations for elementary school children on how to be safe when they are home alone, providing pro bono psychotherapy to teens, women & families, conducting parenting classes, and working with the Ventura County youth prison system. In her spare time, she travels with her husband, Joe, laughs & shops with her daughter and stepdaughters and plays with her grandchildren, which is her biggest joy of all!