The Ms. California Pageant is operated by Ms. Senior California of America, Inc., under the direction of Elvia Harris.

Many thanks to Ms. Harris and her dedicated team, Reina Bolles, Marilyn Anderson, Jane Wagner, Susan McKee, and Joyce Schumaker for their hard work and commitment to the Age of Elegance!

The 2018 California State Senior America Pageant was held on June 10, 2018 in the Joan Kroc Peace and Justice Theatre at the University of San Diego. For more information, contact eharris5@san.rr.com or visit California Senior America Pageant. Plan to be inspired!


MS CALIFORNIA SENIOR AMERICA 2013,
ALISE RICHEL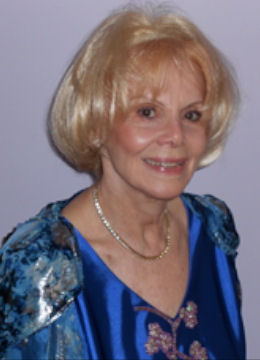 CONGRATULATIONS to ALISE RICHEL, Ms California Senior America 2013!

Alise has been singing all her life, starting while she was still in the baby carriage. Her first concert was to an audience of 2000 at the age of three, when she stood all alone on the stage singing "Pennies From Heaven" accompanied by a big band.

Later she studied opera with masters from the great opera houses such as the Met, La Scala, and Vienna State opera and continued her training with maestros from The Academy of Vocal Arts and the famous music festival of the Boston Symphony, Tanglewood.

When Leonard Bernstein heard her sing he rose to his feet proclaiming, "You have a gorgeous voice."

She majored in music and dramatic arts at Adelphi and Columbia Universities and studied at The American Theater Wing and the Herbert Berghof Schools of Acting, ballet with Natasha Borskavich from the Bolshoi and jazz with Hal Shaefer from Twentieth Century Fox.

Alise has soloed with symphony orchestras, appeared with famous stars, and has performed leading roles in operas and musical theater productions.

As a teacher of singing she has students in major productions world-wide: "The Lion King" and "Chorus Line" and is coaching Peter Riberi, world renowned opera star who has sung at the Met.

She is currently completing her book on her voice teaching called, "Nitty Gritty Bel Canto." (How to learn how to learn how to sing).