The Ms. California Pageant is operated by Ms. Senior California of America, Inc., under the direction of Elvia Harris.

Many thanks to Ms. Harris and her dedicated team, Reina Bolles, Marilyn Anderson, Jane Wagner, Susan McKee, and Joyce Schumaker for their hard work and commitment to the Age of Elegance!

The 2018 California State Senior America Pageant will be held on June 10, 2018 in the Joan Kroc Peace and Justice Theatre at the University of San Diego.

For more information, contact eharris5@san.rr.com or visit California Senior America Pageant and plan to be inspired!


---
MS CALIFORNIA SENIOR AMERICA 2017,
MARY JANE "MJ" WILKERSON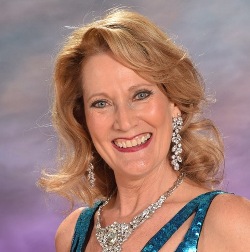 CONGRATULATIONS to MARY JANE "MJ" WILKERSON, Ms California Senior America 2017!

Born at Offutt Air Force Base, Nebraska - Mary Jane is the youngest of 4 children from a wonderful Air Force family where her father's career took them too many places together, including the Far East.

In 1975 her father retired and they moved to San Diego.

In 1977 MJ received her degree in Criminal Justice and spent 22 yrs. in a law enforcement career. Ten of those years was in Public Relations where she was responsible for establishing the "Retired Senior Volunteer Patrol" in her community, training and managing up to 125 senior volunteers.

In 1998 MJ and her husband developed a private security consulting and safety training business for corporate company employees.

Several years later, MJ acquired her real estate license and later she was asked to manage a small Real Estate Law firm in San Diego.

In 2011, MJ was introduced to a health and wellness program that changed her life! A family member encouraged her to take charge of her health and she lost over 55 lbs. transforming not only her body, but gained her health back by eliminating 5 medications.

MJ has been involved in health and wellness for over 6 years now and is a Certified Health and Optimal Living Coach through Villa Nova University, College of Nursing. She is now "paying it forward" and has coached 100's of others to acquire lifelong health for themselves! MJ and her husband Allen have been married for over 14 yrs. and are both active choir members at Shadow Mountain Community Church; MJ and her husband are also featured cast members of Christian Community Theater's "San Diego Follies", and MJ is a member of the "Classic Divas" of the Ms. Senior California Cameo Club performance group.

Together MJ and her husband have 4 wonderful adult children, and 8 fabulous grandchildren.



---




Senior America, Inc.
P.O. Box 116
Allenhurst, NJ 07711 USA

Phone (732) 746-2598