The Ms. California Pageant is operated by Ms. Senior California of America, Inc., under the direction of State Administrator, Elvia Harris.

Many thanks to Ms. Harris and her dedicated team of volunteers: Ed Harris, Sound Engineer; Karen Freeman, Judges' Foreman; Linda Hodges, Secretary; Jane Wagner, Judges' Host; Bobbie Dion, Ticket Sales; Lori Stangel, Contestant Liason; and Marilyn Anderson, Photos. Many thanks for their hard work and commitment to the Age of Elegance!

For more information, email contact@msscalifornia.net or visit California Senior America Pageant. Plan to be inspired!


MS CALIFORNIA SENIOR AMERICA 2019,
PAULINE ALLEN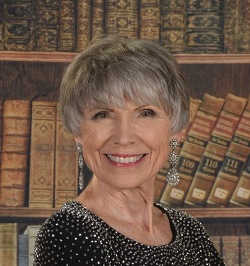 CONGRATULATIONS to PAULINE ALLEN, Ms California Senior America 2019!

She is a California girl, born and raised in Orange County. She is 73 years young. Her personal philosophy is: Sassy at 60...Sensational at 70...Elegant at 80. Exercise is her serious hobby. She works out at the gym 4 days a week. In one year, she increased her bone density by 1% and her doctor took her off her Osteoporosis medication! Exercise can change your life!

She is a wife, mother, mother-in-law, and grandmother. Her husband, a Deputy Sheriff at the time, worked overtime, so that she could be a stay-at-home mom. She is so grateful to her husband for such a beautiful gift. Her 3 children and 2 daughters-in-law are amazing! And, she absolutely adores her 9 grandchildren! David, one of her grandchildren, who turned 23 years old on the day she won the title, Ms. Senior Orange County, 2018, toasted her and said: "Grandma, your monologue (which was her talent) was amazing and it is the best birthday present you have ever given me!" What more could a grandmother ask for! The Ms. Senior California Pageant has been an exciting journey that has touched all of her family in a positive way! What a precious gift her family is to her!

At age 69, Pauline decided to Dream Big! And Reach For The Stars! And start her journey to become a senior actor and lifestyle model! She is blessed with the best Talent Manager ever, and her Agency is absolutely wonderful! Her acting and pageant journeys have brought her many new friends and exciting adventures! Her life is wonderfully full!