The Ms. California Pageant is operated by Ms. Senior California of America, Inc., under the direction of State Administrator, Elvia Harris.

Many thanks to Ms. Harris and her dedicated team of volunteers: Ed Harris, Sound Engineer; Karen Freeman, Judges' Foreman; Linda Hodges, Secretary; Jane Wagner, Judges' Host; Bobbie Dion, Ticket Sales; Lori Stangel, Contestant Liason; and Marilyn Anderson, Photos. Many thanks for their hard work and commitment to the Age of Elegance!

For more information, email contact@msscalifornia.net or visit California Senior America Pageant. Plan to be inspired!


MS CALIFORNIA SENIOR AMERICA 2018,
RITA PARDUE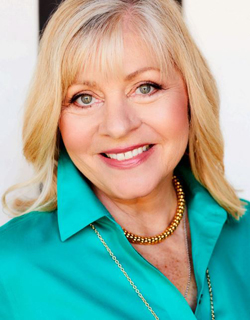 CONGRATULATIONS to RITA PARDUE, Ms California Senior America 2018!

"Rita can sing in tune, smiles a lot and can balance her checkbook. She will go far in life." Ron Ruff, Talent Agent, 1969.

Growing up in St. Louis, Missouri, Rita fell in love with music. She graduated from Hazelwood High School. Entering the University of Missouri-St. Louis majoring in music, when opportunity knocked on her door and Rita took the chance, left college and was on the road touring/singing on the Hyatt and Hilton Hotels circuit for the next decade. During this time, she studied singing, acting and dancing.

In 1981, Rita was cast in the longest running production show in Las Vegas, Donn Arden's Jubilee at the MGM Grand Hotel as one of the "Singing Ladies." Returning to college, she enrolled at the University of Nevada-Las Vegas in the Radio/TV Broadcasting department. In addition to performing 13 shows per week in Jubilee, Rita hosted a jazz radio show at KUNV, was a part-time news reporter at KORK and launched a radio entertainment program, "Paying Dues." While in Las Vegas, she branched out into trade show modeling, product spokesperson and television and radio commercial actor. " Accepting a job offer to work at NBC as an administrative assistant, Rita moved to Los Angeles.

Returning to college again, Rita was accepted at California State University-Los Angeles. She earned a Bachelors of Arts degree in Radio/TV/Broadcasting. She received a fellowship to continue her education earning a Masters degree in Child Development focusing on children's radio programming.

Her freelance acting, landed her minor roles in a CBS made for television drama, "When the Circus Came To Town," with Christopher Plummer and Elizabeth Montgomery; a PBS film as a school teacher in "Math Facts," and a budding career recording television and radio commercials. She was thrilled to sing as a warm-up act for the gifted magician, Harry Blackstone Jr. Her musical opportunities included performing with George Burns, Pia Zadora and Tony Bennett. She was honored to be included in the Hollywood Bowl Easter Choir for 3 seasons. She welcomed the opportunity to act on the WB American sitcom, "Unhappily Ever After."

Transitioning from singer to radio host, Rita jumped right into a second career. She loved working at Radio Aahs-Children's Broadcasting Network, KPLS and KAHS, supervising the team of kid reporters, on-air duties and producing a weekly show called "Disneyland Live" airing on 65 affiliates across the United States. Her next radio assignment took her to KKLA as Midday Host on the number one Christian radio station in Los Angeles. Her journalist assignments for KKLA took her to China, Japan, Indonesia and Jamaica.

Longing to spend more time with her new family and sons, she started her own production company, Angel Wings Productions. This venture afforded her the flexibility to be more involved in her sons' daily lives.

In 2007, Rita returned to working full-time at National Public Radio Los Angeles affiliate, KPCC as the staff announcer/production manager where she has worked for the past 11 years.