The Ms. Arkansas Senior America State Pageant is run by Crawford County Seniors, Inc., and the Arkansas Cameo Club, under the supervision of State Administrators Lori Oliver and Elaine Walker, and their dedicated team: Michelle Lloyd, Lisa Barnett, Christy Nelson, Susan Oliver, Eva Oliver, Trish Byers, and Carrie Scott. Many thanks to Ms. Oliver and Ms Walker and their team for phenomenal State Queens and wonderful pageants!

The 2018 Arkansas State Senior America Pageant will be held on June 23 at the Alma Performing Arts Center. Get in touch with Crawford County Seniors, Inc., or Lori Oliver at loliver1946 at yahoo.com for more information, and plan to be inspired!


---
MS ARKANSAS SENIOR AMERICA 2015,
JAN THROGMORTON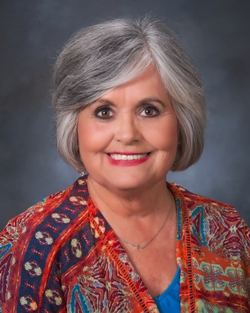 CONGRATULATIONS to JAN THROGMORTON, Ms Arkansas Senior America 2015! As Jan tells it:

I have been married to my best friend Michael for 45 years. We have one son Michael, and one daughter Christi, eight granddaughters and one great granddaughter and one great grandson.

We serve on the Pastoral Team at Unity Covenant Church. We are committed to God and His work. As a long term member of UCC I have had to great joy of mission work from a project in my childhood hometown to the Philippines. I learned much more than I wanted to know about third world poverty. I also love working in the prison ministry and seeing people make a new life after being there.

My favorite past time is spending time with my family and we do a lot of volunteer work together from feeding the homeless to being a team of 17 years at a camp for children with cancer, leukemia and sickle cell anemia.

I believe in community involvement and served on the city counsel for over 20 years and had a term as mayor. While serving as mayor I was extremely proud of the community spirit as we weathered our worst ice storm in our history. Education is extremely important and I have served in many volunteer positions and as a substitute teacher.

I am a people lover, and believe, nothing in life is more important than loving people and sharing God's love with those less fortunate, and committing them to God. I received a humanitarian award from Barbara Bush and Kraft foods for serving others.

I have lived the fairy tale life. Having gone from being a migrant worker as a child to opportunities to travel a large part of the world, and serving in capacities I never dreamed possible.

Being Mrs.Senior Arkansas has been one of those experiences and I will always cherish the memories.



---




Senior America, Inc.
P.O. Box 116
Allenhurst, NJ 07711 USA

Phone (732) 746-2598