The Ms. Arkansas Senior America State Pageant is supervised by State Administrator Pattie Genovese and her dedicated team. To become a contestant or sponsor for 2019, or for 2019 Arkansas Senior America State Pageant updates, contact Ms Genovese at puppylove56@msn.com.

Many thanks to former State Administrator Lori Oliver, Elaine Walker, the Crawford County Seniors, Inc., and the Arkansas Cameo Club, and their dedicated team: Michelle Lloyd, Lisa Barnett, Christy Nelson, Susan Oliver, Eva Oliver, Trish Byers, and Carrie Scott, for Twenty Years of phenomenal State Queens and wonderful pageants!

The 2019 Arkansas State Senior America Pageant will be held in Hot Springs. Plan to be inspired!


MS ARKANSAS SENIOR AMERICA 2014,
KAREN CAGLE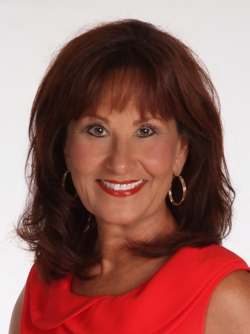 CONGRATULATIONS to KAREN CAGLE, Ms Arkansas Senior America 2014! As Karen tells it:

With the exception of one year in Germany, I have always lived in Arkansas. I have just celebrated my 25th wedding anniversary with my second husband David. I am blessed to be the mother of six beautiful daughters: Heather (44), Heidi (42), Hailey (35), Harmony (23), Hannah (stillborn-would be 19), and Haven (18). The blessings kept flowing as I became the grandmother of 5 wonderful grandchildren: Mollie (deceased-would be 15), Sarah (14), Drew (9), Karrin (7), and Mikayla (6).

As a twelve-year-old, I began playing the piano and the organ at my church and still serve in that position. In high school I was a majorette and was the accompanist for the school choir.

When I was 16, I married during my junior year. Heather was born during the summer, and I returned as a senior and graduated as an honor student. My husband was in the army, and we lived in Germany the year Heidi was born. I still love to travel, and in the last 15 years, I have visited 39 of the 50 states and many places in Canada and Spain.

At the age of 19 I became church secretary and served in that position for 40 years. I also served as the church clerk, children's director of musicals, and am still serving as church treasurer. In 1998, I began playing and singing in a praise band, not to mention school musicals.

I continued my education and received a BSE from Arkansas State University, with a major in English and a minor in German. After Hailey arrived, I returned to ASU and received an MSE in Secondary Guidance Counseling. However, I did go back to the classroom to teach one year of German for which I received the Shannon Wright Teacher of the Year Award.

After 18 years of marriage and living as a single parent for three years, I married David. We had three daughters. I became really busy chauffeuring Harmony and Haven to dance lessons. Two years ago, they opened their own dance studio where I became even busier as their official bookkeeper.

I have served on the Mid-South Ballet Board, Clay County Arts Council, Helping Hands Committee, and now the Cameo Club. During my three years as a member of the ASU Community Choir, I traveled with them to perform in the Lincoln Center in New York City and to Spain (Barcelona, Toledo, and Madrid) to perform in the cathedrals.

I am now in my 38th year in education; I serve as a full-time high school counselor. My sixth daughter Haven, graduated this year as valedictorian of her class; She is a freshman at ASU where Harmony is now pursuing a Master's Degree. My four oldest daughters have a compiled sum of nine college degrees. Education is very important in all of our lives. Since ASU gives Silver Scholarships, I plan to return to college in the spring.

When I was 50, I became a member of AARP and began taking tap and jazz lessons with a group of other adults. I danced for five years and then quit. I tapped through my first dance solo the night of the Ms. Arkansas Senior 2014 pageant.

Our family was the Clay County Farm Family of the Year in 2011. In addition to caring for 20 head of cattle, we grow rice, corn, wheat, soybeans, and cotton. During the summer, my girls and I sell sweet corn at the farmers' market. For the very first time, I entered my fresh garden produce and canned goods in the three fairs-county, district, and state. It was a joy to receive blue and red ribbons.

Along with all of my other activities, I oversee the care of my 99-year-old mother, who is really excited about my title of Ms. Arkansas Senior 2014. I know God has a plan for me, and I am prepared to make the most of my opportunities.