The Ms. Arkansas Senior America State Pageant is supervised by State Administrator Pattie Genovese and her dedicated team. To become a contestant or sponsor for 2019, or for 2019 Arkansas Senior America State Pageant updates, contact Ms Genovese at puppylove56@msn.com.

Many thanks to former State Administrator Lori Oliver, Elaine Walker, the Crawford County Seniors, Inc., and the Arkansas Cameo Club, and their dedicated team: Michelle Lloyd, Lisa Barnett, Christy Nelson, Susan Oliver, Eva Oliver, Trish Byers, and Carrie Scott, for Twenty Years of phenomenal State Queens and wonderful pageants!

The 2019 Arkansas State Senior America Pageant will be held in Hot Springs. Plan to be inspired!


---
MS ARKANSAS SENIOR AMERICA 2013,
KATY PHILLIPS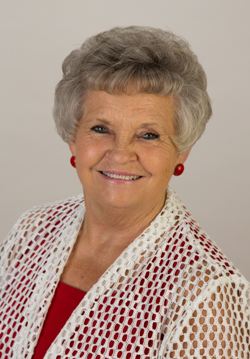 CONGRATULATIONS to KATY PHILLIPS, Ms Arkansas Senior America 2013! As Katy tells it:

I am Gwin Kay Phillips, but have always been known by my family and friends as "Katy." I was born in Wichita, Kansas but have called Arkansas home for over the last 52 years.

I have three wonderful children, seven grandchildren and five great grandchildren. Iím a member of the First Baptist Church and am very active in teaching bible classes for the young kids. I spend my Wednesdays at the church helping to take care of a group of 3 year olds.

Before retiring in 2006 at the age of 62, I worked 16 Ĺ years for Campbell Soup and then over 25 Ĺ years for Gates Rubber Company where Iím still a member of the Gates Rubber Companyís "Golden Bracelet Club."

I enjoy participating at the Senior Centers in Farmington, Prairie Grove, and Lincoln, Arkansas. I sing with a band known as the "Miss Fits" at the Senior Center dances, and am known to get on the dance floor and "cut-a-rug" too. My senior friends and I go out almost every Friday night to karaoke. My experience of running for Ms Senior Arkansas allowed me to belong to a unique group called the Cameo Club. Being a member of the Cameo Club has given me the opportunity to go and perform at some really wonderful places while promoting the Ms Senior Pageant.

I love being active and my greatest joys is being surrounded by my family, church and senior friends. When people ask me about retirement, I tell them that I treat retirement just like I did my job and I go every single day.


---




Senior America, Inc.
P.O. Box 116
Allenhurst, NJ 07711 USA

Phone (732) 746-2598