"I believe in forgiveness. Put the past behind you; its gone. Life is a long path; stumble over it and keep on going. Life is very precious and very fragile. You have only one life to live. Live today as if it were to be your last, but learn today as if you were going to live forever."

Philosophy of Life
from Sonia Mittelstedt
as Ms. Wyoming Sr. 1998


Ms. Senior America 1998
Sonia Mittelstedt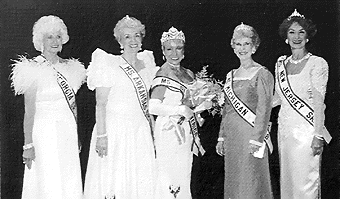 The Queen and Her Court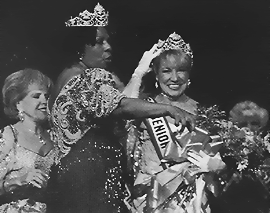 The Coronation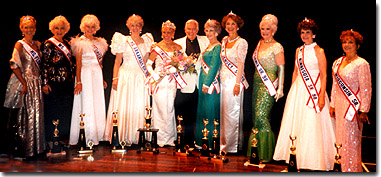 The Top 10
| | |
| --- | --- |
| Being the reigning Ms. Senior America National Queen has been one of the biggest accomplishments in my life. I have met the most beautiful people during this time, which I will always keep in my heart. During my reign I have participated in fabulous showcases, such as the one at the Trump Taj Mahal Casino Resort headed by Louise Ferla. I have made national television appearances on shows such as PBS' To The Contrary and FOX' FOX News, and have also been a guest on local television shows such as New York's Message to WJZ News and Virginia's Jones Cable Dancing around with Pinky O'Neill. | I have been in too many newspaper articles to even recount. I was featured in the People Profiles section of the August 1999 edition of Good Housekeeping. I have been in Parades such as the Beach Feast on the boardwalk of Atlantic City. I have performed at fundraisers for causes such as the Women In Need (WIN) Foundation. I have given speeches at many events such as luncheons for local Chamber of Commerce. I have given talks to groups at several senior centers and assisted living centers. At each and every opportunity I have promoted the Senior America organization to the best of my ability. |
During my reign I have become extra motivated to continue my studies in Flamenco dance at the Oxford Academy of the Arts in Washington, DC, so that I will be better able to exhibit my talent to promote Senior America at future events and showcases.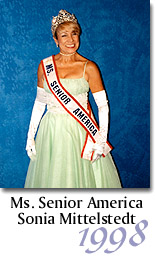 I feel that I have been and will continue to be a good example to all seniors as well as the younger generations because I take care of myself, I eat right, I exercise, and I have a positive attitude toward everything in my life. but, most of all, I like who I am and I would not want to be anyone else. I want to be an inspiration to everyone I meet and help them to realize that life goes on no matter what good or ill befalls you. When you reach the "Age of Elegance," that is when your life is really taking off.
I have really enjoyed my reign, and wish that I could do it all over again. However, now the time has come to give someone else the honor and the privilege to become the new Ms. Senior America. This is truly a once in a lifetime experience and I wish my successor the best. I hope that she will take full advantage of all the opportunities that this title bestows upon her.
I want to thank everyone involved with Senior America for allowing me to be your sister and for your great support. I especially want to thank our Founder Dr. Al Mott; my husband Ed; my children Susie, Eddie and Fred; my dear friends Bob and Louise Ferla; Marvin and Ethel Bennett; Pinky O'Neil; and my dearest Marlene Shuss and Bob Geltman. I wish for each and every one of you good health, prosperity, and happiness in the new Millennium.
Thank you,
Sonia Mittelstedt
Ms. Senior America 1998
Special thanks from Senior America, Inc. to Ilva Childers, Ms. Wyoming 1997, and Wyoming State Director, for our lovely Ms. Senior America 1998.