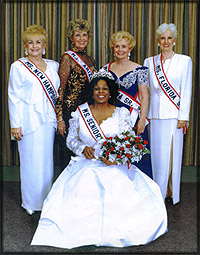 Held on September 12 and 13, 1997
Ms. Senior America - Louise Stuetley (NY)
Ms. New Hampshire - Karen Roberts Walker
Ms. Arizona - Elaine Stamm
Ms. Alabama - Betty Leeth Haynes
Ms. Florida - Anita Shumway


---
A TRIBUTE TO LOUISE STUETLEY
By Dr. Al Mott
Louise Stuetley - I knew her before I knew her name.
When I created Senior America I knew that our success was to find someone who would be the epitome of Senior America's philosophy.
This is Louise Stuetley's philosophy of life:
Life is a journey and realizing that we are all linked by the bond of humanity I have always felt extremely privileged to share this universe with my fellow travelers.

I recognize that I am only one but I am one. I cannot do everything but I can do something. And what I can do, I will do.

Thankful for the opportunity to be part of society's solution, I am determined to leave this planet a better place than I found it.
Much like Elisha who took the mantle of success from the Prophet Elijah I knew in order for us to be successful we needed someone who was a personal inspiration to her family first and someone who would be an inspiration to everyone around her. Someone who was educated but also self-educated on how to inspire others to a higher ground.
Louise Stuetley - I knew her before I knew her name.
I knew that the women who wore this crown and title of Ms. Senior America would have to be a Queen in the real sense of the word but not a Prima Donna. A women with a strong and powerful voice not just for singing but a strong and powerful advocate for those who had no voice at all. Someone who was on a mission and had a ministry of love to guide those who had lost their way.
Louise Stuetley - I knew her before I knew her name.
Senior America needed someone with an enormous talent but with the innocence of a child... "someone as wise as a serpent but harmless a dove..." The last time I was with Louise we were in Washington, DC and left something in my room on the 7th floor. I went back to get it and as I turned right to go off the elevator I heard a noise behind me. It was Louise coming out of her room. I said to her, "Louise, I am very proud of you today (December 2000), you are going to sing at the White House. We have all come a long way and especially Senior America - we have come from the poor house to the White House." And Louise said, "It is a victory for all of us but it's just the beginning."
Louise Stuetley - I knew you before I knew your name.
I know this is exactly what God said to Louise when she was in his presence, "I know mine and mine know me." Someone once told me that when someone leaves us God has an important new role. I thought there must be a big concert planned because God needed his favorite soloist and he lent us Louise for while so that we could experience what a real Ms. Senior America should be! I also thought this may sound selfish, but why take her from her family and her friends - her students and from Senior America. The answer I got back was she will never stop working with all of us but rather she will lead all of us to a higher sense of dignity and elegance. We will all see those marvelous qualities of life in small and large ways inspiring us to greater heights as we learn more about her and how much others admired her and want to be just like her.
Louise Stuetley - I knew you before I ever knew your name!