---
ESMERALDA YBARRA HETRICK, Ms. Senior America 2019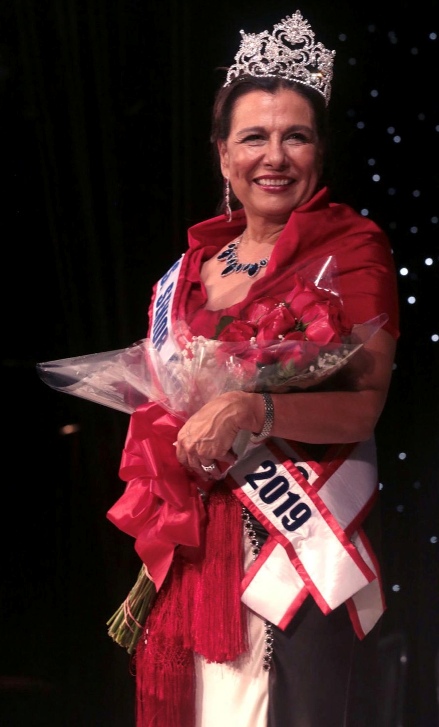 CONGRATULATIONS to ESMERALDA YBARRA HETRICK, Ms. Senior America 2019! A special thanks to our committed and dedicated State Administrator Denise Russo-Caiazzo, for her help, guidance and encouragement!

Born in Texas to a family originally from Monterrey, Mexico, Esmeralda was the first-generation Latina of her family to graduate, ultimately earning a bachelors and MBA. She grew up in Galveston TX, one of six children living on welfare, food assistance, and government housing, yet grew up with an "amazing mother" that instilled integrity, values, hard work, and a belief in God.

In her twenties, she married her husband and singing manager, Max. His untimely death in 1983 left Esmeralda a widow and single mother with a five-year old to raise. She moved to Pennsylvania in 1988 and has been there ever since. Passionate about helping youth who cannot or don't know how to help themselves, she mentors students to create future leaders to help those that have no direction and/or role models.

She worked as a client manager, then as a Health Equity Quality Consultant for a major insurance company, influencing corporate strategy for diverse workforce improvement, product development, and healthcare disparity issues, as well as leading community outreach and small business minority procurement. Her expertise enabled the insurance company to tailor effective messages and ad campaigns for the strategic targeting of the diverse community's healthcare concerns.

Esmeralda is the owner of an English/Spanish newspaper, La Voz Latina Central of PA, and the personal talent manager for her husband, Graham S. Hetrick, Dauphin County Coroner who has a TV show, "The Coroner – I Speak For the Dead." Along with being a licensed insurance agent she assists Hetrick Bitner Funeral Home in pre-planning funeral arrangements. Esmeralda also assists MediPlan Connect with Medicare/Medicaid plans.

Esmeralda's community efforts garnered media attention and have positioned her as the Hispanic go-to spokeswoman, as exemplified through numerous awards and recognitions. Among them – her selection in the 2005 YWCA "Women of Excellence", her selection in 06' in Harrisburg Magazine's "Movers and Shapers", and the feature story in 2009 for the first issue of "Women Connect – Connecting Women All Over the World". Esmeralda was also the recipient of the Jefferson Award Medal for Public Service in 2006, 2007, and 2009.

With a background not only in diversity consultation, marketing, and public relations, but also entertainment, Esmeralda produced a CD (English/Spanish) with local artists to raise money to benefit various local non-profit organizations. Other previous tv and singing engagements include co-starring on the Matt Houston Show with guest star Lloyd Bridges, and substituting for singer Vikki Carr for the opening act to the Rich Little Show at the Arena Theater in Houston, TX. Esmeralda is currently relaunching her singing and acting career, starting by writing and producing an original screenplay of a family-friendly Hispanic comedy show, starring a senior Latina woman. She is also a consultant to her husband's non-profit organization, The Coroner Cares, focused on finding holistic solutions to the opioid addiction epidemic.