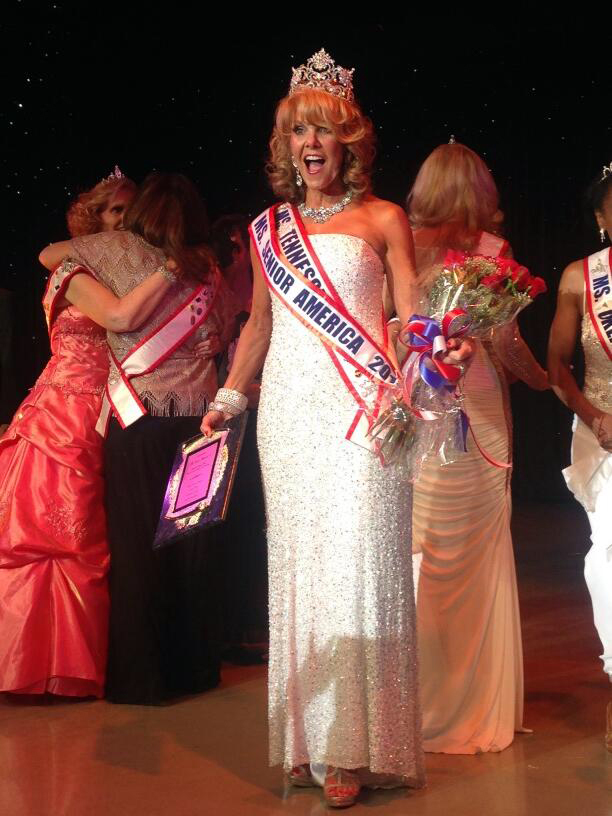 Carolyn Corlew of Tennessee was crowned Ms. Senior America 2013! As Carolyn tells it: I have resided in the beautiful state of Tennessee for 33 years. I just celebrated 30 years of marriage to my husband David and have one wonderful daughter, Taylor 27, and am step-mother to 2 daughters and Grammy to 5.

I have been Blessed to be in the Music Business for most of my working life and continue to stay active after 17 years on the road with The Charlie Daniels Band as a vocalist. After I retired from road life and got off the bus, I became certified in several business and accounting programs and now serve as director of finance and consultant to a record company, film company, music publishing, and 3 other businesses.

I was born in New Jersey!! Though we moved to California when I was 5, I have fond memories of my beginnings in Chatam.

California was where I was raised. My mother was an actress and very involved in church and service work. We were raised to be active!!!

I became a professional model at 15 being a staff model for Teen Magazine and professionally modeled in Los Angeles and San Francisco for 10 years doing commercials and print ads for Kodak, Revlon, Polaroid, Carnation Instant Breakfast, Ford, Chevrolet, etc. etc. It was a fun time, but I loved music!!!

I acted in a movie as a 2nd lead with Keith Carradine directed by Peter Fonda, titled Idaho Transfer a great experience on location, but music was still calling!!

I landed a job singing with the legendary blue eyed soul singer Bonnie Bramlett, from the Delaney & Bonnie group. I toured and performed on records with her for years, allowing me to sing with such groups as Little Feat, The Guess Who, Pablo Cruise, and countless others, until I landed a job with The Charlie Daniels Band after seeing a small add for a summer tour in the Hollywood Reporter.

I started with Charlie in 1979 and toured the world, meeting my future husband, and actually performed 8.5 months into my pregnancy and was back on the road with my 2 month old baby girl, Taylor! Thanks to Hazel, Charlies lovely wife, I was able to work for years on the road as Taylor would go to their bus and stay until the show was over.

It was time to get off the road and allow my daughter to be home and enjoy her life as a teenager! I was and still am able to perform with Charlie today, and Blessed to have the opportunity to still get on stage and sing with such a living legend, such as him.

Being a performer all my life I knew I had to continue doing something, so I became a certified personal fitness trainer to further my knowledge of physical activity and I worked with clients for a year at a local gym.

It was the formation of a record company with Charlie and the interest in the business side of music that landed me in the career I have today.

Stay close to the money and the music!! I have enjoyed years as a worship leader in our Methodist church Praise Band.

Home is now a 110 acre working cattle ranch in Mt Juliet. We have 50 head of cattle, 7 horses, 5 dogs, 6 cats and a partridge in a pear tree! Yes, its a lot of work for me and my husband but it keeps us fit!!

I look at each day as a complete Blessing as I continue my active life in music, fitness, and the love of my family, friends, and precious animals.